Thanks to their fondness for the Autoharp, a few casual musicians have no trouble looking at the brighter side of life.
They call themselves the Sunny Side Players Autoharp Club, and every Tuesday they can be found practicing or putting on a concert at Babcock Place, 1700 Mass., where they have developed a dedicated following.
"When they practice there are a few people who like to listen in, but what we really enjoy is when they let us be their audience for a concert," said Gayle Sigurdson, resident services coordinator at Babcock Place, a residence center for senior citizens.
For at least six years, between five and nine Sunny Side Players have been entertaining audiences with a mix of music that includes folk songs, hymns, gospels and more recently even Civil War-era tunes. Ranging in age from their 40s to 80s, the musicians also play at assisted living centers and schools.
"They like the songs," Sunny Side member Berta Call said. "We play the older songs for the assisted living centers, and when we play at the schools we try to get some sunny songs. The kids just go wild."
Audio Slideshow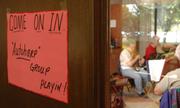 The Sunny Side Players
Call, 54, of Eudora, bought an Autoharp only four years ago, found somebody to teach her to play it and then joined the group. She said she hasn't regretted it. Neither has Marja Pearson, 74.
Pearson remembers seeing a chromoharp - similar to an Autoharp - in a Baldwin music store window several years ago. After walking by it twice she gave in to temptation and bought it. She since has owned more than one Autoharp. "It's an easy instrument to play," Pearson, of Baldwin, said. "You can either strum it or pick it."
The group takes its name from its theme song, "Keep on the Sunny Side." The Autoharp and song were once key features of performances by the Carter Family and later June Carter Cash, Call and Pearson said.
Pearson, also a piano player, taught herself to play the Autoharp but continues to learn from others.
What's an autoharp?
Autoharp is the trademark name for stringed musical instruments in the zither folk instrument group. The player strums the strings with one hand and controls the string dampers with the other hand. The strings are stretched across a wooden frame.
"We help each other," she said. "I've never had a paid lesson. You pick up something new from everybody you see because they all have a little different way of doing it."
The group has become such a hit at Babcock Place that a sign language group, which also meets at the center, now interprets the lyrics when the group plays Christmas carols, Sigurdson said.
The Sunny Side Players expect to be strumming their Autoharps for a long time to come. "We just pick something and play it," Call said. "We make it a fun thing. We don't want to get too serious."
Copyright 2018 The Lawrence Journal-World. All rights reserved. This material may not be published, broadcast, rewritten or redistributed. We strive to uphold our values for every story published.