Three-and-a-half-year-old Isaiah Mayo stood in a field Saturday morning waiting for the baseball to come his direction. He scooped up a grounder, planted his foot, and threw to first base.
For the past six weeks 3- and 4-year-olds have grabbed their gloves and hit the diamond to learn the game of baseball. For some of the kids, the Sport2Sport preschool T-ball session is their first opportunity they have ever had to throw a ball or swing a bat.
Becky Lutz, Isaiah's mom, said he was extremely excited when he learned that he would be playing T-ball this spring.
"In his first session he was a little upset because he just wanted to hit the ball," Lutz said. "He was not interested in 'learning' the techniques of the sport, just was ready to hit it."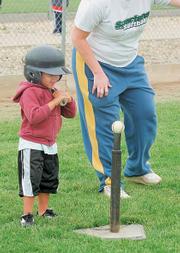 Over the six weeks, Isaiah, along with the five other kids in the morning session, including Isaiah's cousin Trevor Baars, have taken more of an interest in learning the techniques and strategies of baseball.
Session coach Jackie Corcoran teaches basic fundamentals in a 20-minute session that includes skills such as throwing to first base, running the bases, and hitting off a tee.
The kids then conclude the hour practice with a game.
"They actually now know what to do with the ball," Corcoran said. "They don't just look at the ball, they know where to throw it once they get it."
Lutz noticed the increased improvement as well.
"It is unbelievable how fast the younger kids learn," she said. "They are into learning to catch the ball after it is hit and throwing it to the first baseman. They love to run the bases as fast as they can."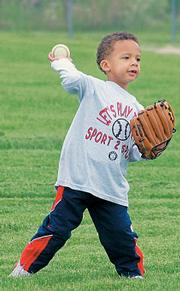 While some might think that preschool is too young to begin, Lutz and Corcoran agree that the T-ball session is a good experience for the kids.
"The earlier the better because the kids have an opportunity to excel," Corcoran said. "Everybody needs basics even if they don't continue to play the sport."
"I do not feel preschool is too early to have a child involved in a sport, as long as they are willing to get involved and enjoy playing whichever sport it may be," Lutz said.
"We think the earlier they start the more fun for them as they get older."
Lutz and her husband, Reggie Mayo, were so happy with the first six-week session they have enrolled Isaiah in another session.
"I have talked to several other parents about the success I have had with Isaiah being on this T-ball team, and a lot of them are enrolling their son or daughter in the second session," Lutz said.
"Isaiah loves telling people about his t-ball games, so I think he enjoys playing it a lot too."
Copyright 2018 The Lawrence Journal-World. All rights reserved. This material may not be published, broadcast, rewritten or redistributed. We strive to uphold our values for every story published.