Topeka — State lawmakers approved a three-year, $466.2 million increase for public schools to set up a possible showdown with the Kansas Supreme Court, and expected to end the 2006 legislative session today.
The school funding plan passed in dramatic fashion Tuesday after a lockdown in the Senate that lasted 45 minutes with the vote stuck at 20-18.
Two legislators were absent -- one was believed to be out of state -- and the Senate was waiting for them to show up.
Then Sen. Dwayne Umbarger, R-Thayer, switched his vote to yes to give the measure the required 21 votes right before midnight. Sen. Kay O'Connor, R-Olathe, raced back to the Capitol to vote against the proposal to make the final 21-18 margin.
O'Connor said she would have arrived earlier but was stopped by a Highway Patrol checkpoint on the turnpike.
"I guess it was a sobriety check," she said. "They looked at me and let me go."
Lawmakers will return today to consider tax cuts for businesses. The Legislature will be in its 15th day of the wrapup -- one short of the record 16 days in 2002.
Passage of a school funding bill was a major breakthrough, but also may have set up a possible special session this summer if the Kansas Supreme Court disapproves of the plan. The court has ordered increased funding.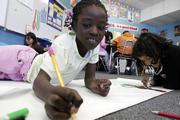 Alan Rupe, an attorney for the plaintiff school districts that successfully sued for more funding, said he would challenge the measure, which falls far short of a court-recommended study on the actual costs of education.
"It's not enough," Rupe said of the funding, adding that the increased monies are "in the wrong places."
"What has happened, to no one's surprise, is the House and Senate have politicized a process that the courts have indicated are not a political process," Rupe said. "They need to focus on the costs of education."
Too late for all-day?
The measure also may have come too late for hundreds of children in Lawrence who start kindergarten in August.
Lawrence Supt. Randy Weseman had wanted to start full-day kindergarten then, but because lawmakers wouldn't commit to funding more than the current half-day kindergarten, Weseman pulled the plug on the proposal Monday.
How they voted
Here is how area legislators voted on the three-year, $466.2 million school funding plan. The House approved it 66-54; the Senate, 21-17, although one more no vote was expected later.
House Barbara Ballard, D-Lawrence, Yes Anthony Brown, R-Eudora, No Paul Davis, D-Lawrence, Yes Tom Holland, D-Baldwin, Yes Joe Humerickhouse, R-Osage City, No Ann Mah, D-Topeka, Yes Tom Sloan, R-Lawrence, Yes Lee Tafanelli, R-Ozawkie, No
Senate Marci Francisco, D-Lawrence, Yes Anthony Hensley, D-Topeka, Yes Roger Pine, R-Lawrence, Yes
"I'm going to start a task force so that whenever the money gets right we're ready to go," he said.
Under the new plan, Lawrence will get a $2.8 million increase from the state in the coming school year and will be able to raise more local property taxes for schools.
Rep. Tom Sloan, R-Lawrence, voted for the proposal, which passed 66-54 in the House, partly, he said, because he thought the bill would allow the Lawrence district to reconsider full-day kindergarten.
"It gives Lawrence flexibility so that they can use some funds for all-day kindergarten and other programs that seem popular in the community," he said.
In the Senate, Lawrence senators - Marci Francisco, D-Lawrence, and Roger Pine, R-Lawrence - supported it.
"The most important thing to many of our school boards and school districts and schoolchildren is to be able to plan for the coming year," Francisco said.
"I've been in support of education for a long time. The challenge is to do that and balance the budget at the same time and be fiscally responsible.
"I felt like we had gone as far as we were probably going to go," Pine said.
Cost study comparison
The Kansas Supreme Court has ruled the $3 billion school finance system unconstitutional because of underfunding, especially to large districts with high percentages of low-income students.
The court has told lawmakers to use a cost study to guide their appropriations.
But the plan fails to meet the price tag rung up by the cost study that was done by the Legislative Division of Post Audit.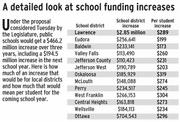 That cost study called for a $400 million increase next year, while the Legislature's three-year proposal would increase funding by $194.5 million next year.
The plan also falls far short of funding what the cost study recommends for programs that serve students who are at risk of failing.
And the study called for $53.8 million to be divided among four urban school districts that have a high proportion of poor students. The new plan allocates $22.7 million and spreads that over 37 school districts.
But House Speaker Doug Mays, R-Topeka, said he thought the proposal did a good job of matching up with the study's goals.
"I don't think it's all that far off from the Post Audit," he said.
Sloan agreed: "It addresses the issues raised by the Supreme Court last year as we move toward equal educational opportunities."
Rupe said that obviously wasn't true.
"The plan doesn't measure up," he said. "The Legislature has started dividing in half all the numbers to get to a political compromise."
Odd coalition
The proposal was carried in the House by an odd coalition of Democrats, who have voted for bigger increases, and mostly rural Republicans, who have voted against bigger increases.
But on this plan a number of the rural Republicans moved over to the "Yes" column because the plan included significant increases in base state aid per pupil, which helps their smaller districts.
A number of Johnson County Republicans, who earlier had teamed with Democrats for larger plans, were left out in the cold. Many Johnson County legislators have sought the authority of unlimited local property taxes to increase school aid. But that provision is capped in the bill.
Copyright 2018 The Lawrence Journal-World. All rights reserved. This material may not be published, broadcast, rewritten or redistributed. We strive to uphold our values for every story published.