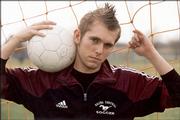 Kansas University student Ricky House has been crowned the male "Sexiest Vegetarian Alive" by People for the Ethical Treatment of Animals (PETA).
The Salina native was among 10 male finalists for the title.
As winner, he received a $50 gift certificate from a nonleather shoe retailer, cologne, a box of vegan chocolate truffles, coupons for veggie burgers and other gifts. He also will be featured in Animal Times, PETA's magazine.
Copyright 2018 The Lawrence Journal-World. All rights reserved. This material may not be published, broadcast, rewritten or redistributed. We strive to uphold our values for every story published.