The USA Cycling Collegiate Road Nationals will roll into his adopted hometown this weekend, and no one is more disappointed to have to miss it than Brian Jensen.
Jensen will be in Fayetteville, Ark., competing in the Joe Martin Stage Race instead.
Such is the life of a first-year professional bike racer.
"Nationals were a lot of fun," Jensen said. "Definitely, I'll never forget them. It was one of the best races I did last year. The road race was fun, and I got third. Racing downtown also was fun. So many people were cheering. I'm sad not to be able to see the race, be a part of it."
He was a big part of the last one.
Last May, Jensen placed third in the road race and third in the omnium standings - the overall individual award for combined results in all three races that make up Nationals.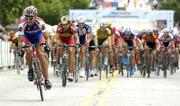 The outcome might have been a bit of a surprise, since Jensen and the Kansas University Cycling Club were competing against other, stronger teams.
And while his podium showing didn't necessarily translate into an automatic pro contract, it surely didn't hurt.
Jensen signed with the Jelly Belly pro cycling team last fall.
"Nationals didn't count as much, because Jelly Belly wasn't there, wasn't present," Jensen said. "To get a contract, you have to race against a team. The guys on the team have to be able to feel your strength and say, 'Hey, this guy is strong. We need to get him on the team.'"
At the regional level, Jensen competed in plenty of races against his now-teammates to make a name for himself.
Still, his showing at Collegiate Nationals surely didn't hurt his cause, a fact not lost on his former KU Cycling teammates.
"He's definitely motivation for me," said KU sophomore Christian Beer. "That's what I want to do. I always say I want to pull a Brian Jensen."
"We do look up to him," added senior Paul Heimbach. "We look at Brian as an example. It's a good example, if you put in the dedication and the time and you have the God-given talent, you can be right there."
"Right there" - right now - is toiling nearly every weekend for Jelly Belly.
Jensen, a 30-year-old native of Denmark and former collegiate distance runner who transferred to KU from Oklahoma State, made his pro debut in February at the Amgen Tour of California. He placed 45th overall.
He counts the Tour of Georgia and the Sea Otter Classic in Monterey, Calif., as highlights to his season.
At Sea Otter, Jensen placed 15th, and teammates finished first, third and sixth.
At the Tour of Georgia, Jensen placed 63rd overall - while working to help teammate Caleb Manion, who placed 25th in the loaded, international field.
"I've been racing against pro teams for a while, so that hasn't been a big surprise to me," Jensen said. "The main difference to being elite compared to a pro is, now you have a job to do. You're racing for a team. If they tell you to do something, you do it."
In Jensen's case, that frequently means he has to sacrifice personal results to support his teammates.
"At Georgia, I was working for Caleb," Jensen said. "There was no reason for me to work for myself. I was going back to the car, getting water and food all the time. That's a little different. I'm used to being the one to win races. But it's also fun to try something new, and cycling is a team sport."
Jensen spent 10 days with the team during a training camp in the preseason.
During the season, the team fractures during the week - Jensen returns to his Lawrence home - and reconvenes at the racing venue of the week.
"Jelly Belly pays to fly us everywhere," Jensen said. "That's the good part about being part of a pro team, but the travel's not fun."
Jensen doesn't know how far he'll go in cycling and, in all honesty, at 30, his career likely won't last much longer. He signed a one-year deal with Jelly Belly.
"I don't think I'm anything special at all, and I think I prove everyone has a chance," Jensen said. "I'm 30 years old, and I just started as a professional. If you're younger, you have a better chance, especially now that there are more professional teams.
"I just take it one year at a time. Since I'm a little older, I have other responsibilities. I want to get done with school, get a job, get on with my life. If a big contract comes up : well, I won't plan too far ahead."
Collegiate Nationals will run Friday-Sunday in and around Lawrence.
The team time trial will be held Friday on the South Lawrence Trafficway. The road race will be contested Saturday at Lake Perry, and the criterium will be held Sunday in downtown Lawrence.
An estimated 300 riders from across the country are expected.
Copyright 2018 The Lawrence Journal-World. All rights reserved. This material may not be published, broadcast, rewritten or redistributed. We strive to uphold our values for every story published.