Strength and endurance was the theme of the day for the U10 Club league, Division 1 Elite soccer team on Saturday at Youth Sports Inc. Elite took on the Silver Strikers in their morning game.
Elite did not rest, even at the halftime break, when players like Russell Cloon took advantage of the down time to run sprints across the goal line. All the running must have kept them focused on winning or might have even given them the edge - because Elite stayed on track to record the 3-1 victory.
Elite head coach Robert Murray said the close game forced his team to play their best.
"This was another competitive game for us," Murray said. "Both teams played hard and we improved in our teamwork."
Elite started out strong and hammered in the first goal for the team. Joel Dixon came to play for Elite and challenged the Strikers' ball-handling skills. Compact and quick, Dixon continually helped his team edge closer to the goal range with smooth passes to his teammates.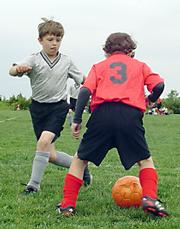 "Early in the first half we had several very nice attacks on the goal using passing," Murray said.
Elite scored another goal before the first half that put the team ahead, 2-0 at the break.
Cloon's running at the halftime break kept him moving in the second half as he got the ball rolling and attempted to break through Striker defenders for a third goal for his team. Unfortunately, Cloon didn't watch his sides and Striker defenders swooped in and squelched Elite's goal potential by clearing the ball out of the Elite's end of the field.
Later in the second half the Strikers fought back and pushed Elite into running the length of the field. The Strikers successfully challenged Elite and eventually found the net for their only goal of the game.
Though defeated 3-1, the Strikers prevented the shut-out, ending the game on the high note with their last and only goal of the game.
With the victory in his team's hands, Murray said his objective throughout the game was not winning, but enjoying the game.
"Our number one goal is to have fun and improve in our skills and teamwork," Murray said. "We are looking forward to continuing improvement in position play and teamwork the rest of this season."
If it was teamwork and improvement Elite was after, Murray can check off a mission accomplished on that task after the team's victorious game.
Copyright 2018 The Lawrence Journal-World. All rights reserved. This material may not be published, broadcast, rewritten or redistributed. We strive to uphold our values for every story published.