Butch Moore exited the Lawrence Public Library on Tuesday afternoon with an armful of books - potboiler mysteries by the likes of James Patterson.
"Mindless crap," he said with a laugh.
Moore goes to the library regularly for his mysteries. He said he likes the library, and he likes it right where it is.
"I personally believe we should build on top of the library and keep the library where it is," he said. "I like the location."
That's still a possibility. As the community on Tuesday began mulling four proposals to build a new, bigger city library downtown, director Bruce Flanders went online with a reminder that one more choice was still on the table.
"There is a fifth option: Expanding the library in its current location," Flanders wrote at ljworld.com, one of several postings he made throughout the day in a give-and-take discussion with readers about the library's future.
Photo Gallery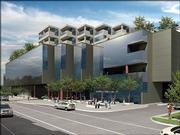 Library plans
The other four options were unveiled Monday:
¢ Massive redevelopment of parts of the 600, 700 and 800 blocks of Vermont and Kentucky streets by the Fritzel family, owners of a local construction company.
¢ A proposal by members of the Simons family - which owns the Journal-World - to place the library along the Kansas River, in the former Riverfront Mall.
¢ Redevelopment by Lawrence developer Doug Compton that would turn much of the east side of the 800 block of New Hampshire Street into a library, retail-residential development and a large public plaza designed by artist Stan Herd.
¢ A plan by developers of the Downtown 2000 project to suspend a multistory library above a section of New Hampshire Street near Ninth Street.
Not cheaper
Taxpayers would pay $40 million or more under any of the proposals. Flanders said expanding at the current location - building atop the parking lot in the 700 block between Vermont and Kentucky streets, with new parking underground - wouldn't save any money.
"I don't see that it will be any cheaper than any of the other options," he said. "I think people are talking about the $40 to $50 million range, and that's what we're talking about."
The stay-put strategy wouldn't include, however, the retail or residential construction proposed by the other developers, nor would it include any private funding.
"That fifth option treats the library expansion as a project unto itself, without ancillary private developments," Flanders said. "In other words, the fifth option focuses solely on the library and would be a wholly publicly funded option."
Varied thoughts
Library patrons Tuesday were of mixed opinions about which option was best, or even if the library needs to be expanded.
Steven Petty, a waiter, said he visited the library four times a week to check out books and use computers. He said the expansion was a hot topic of conversation among patrons Tuesday, but he didn't think a $40 million project was justified.
-->
"At this moment? No," he said. "That's kind of ridiculous."
But retiree Carl Allam, 75, disagreed. He said he stops by the library every day, after lunch at the nearby Douglas County Senior Center, to read newspapers.
"The city's going to grow," Allam said, while returning a book about the O.J. Simpson trial. "We need a new library."
Tim Cook, a once-a-week patron, walked out Tuesday with a biography of President Reagan.
"I've seen libraries in towns this size much better-equipped than this," he said. "This is not an acceptable level of service for the size of town we're in."
George McCoy, who left the library with nine books, agreed.
"Lawrence has roughly doubled in size since I came to school here 20 years ago," he said. "The library's the same."
A committee of city officials and library leaders will review the proposals during a meeting that starts at 9 a.m. Monday at City Hall. Flanders said a bond election for the project probably wouldn't occur until April 2007, the next City Commission election.
Copyright 2018 The Lawrence Journal-World. All rights reserved. This material may not be published, broadcast, rewritten or redistributed. We strive to uphold our values for every story published.