The howls of coyotes could be heard ringing around the fields at Youth Sports Inc. Saturday morning. These coyotes weren't animals, but a group of players on the U10 Division 2 team Howling Coyotes, who celebrated a 5-1 victory against Kiwi Force continuing their undefeated season.
After a closely contested first half ended at a 2-1 advantage for the Coyotes, the second period saw three unanswered goals find the net as the Coyotes secured their fifth victory in a row on the foot of forward Jared Johnson. He scored the final two goals to cement the win.
"We're pretty confident right now," Johnson said of his undefeated squad. "I'm happy I was able to score some goals and help us win."
According to their coach Darron Ammann, teamwork, crisp passing and strong defense were keys to the Coyotes victory and things the team had been working on in practice.
"Our team spacing was really good today," Ammann said. "We've been working hard on making moves and passing and it paid off today."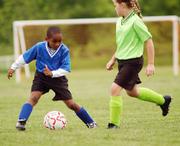 While Kiwi Force stuck right by the Coyotes in most aspects of the game, they didn't seem to have an answer for the Coyotes' level of energy throughout the entirety of the match. Near the end while the Coyotes were still running hard, the fatigue was visible in the Kiwi Force players.
Kiwi Force player Alex Ewy scored the team's lone goal before tending the net as goalkeeper in the second half and admitted they had a tough time matching the Coyotes' endurance.
"We need to work on spreading out and not passing to the other team, but mostly just not getting tired would help," Ewy said.
No one hung their head after game and Kiwi Force left the field in high spirits after hanging with the undefeated Coyotes.
"It was a good game with two good teams," Ammann said. "We played hard and even though not everything went the way we would have liked, we were able to get another win."
Mostly, Ammann said, everyone just had a chance to have a good time and show what they could do on the field. Winning certainly helps, as the Coyotes have grown accustomed to doing. As the season continues they will pursue an undefeated run through the division and try to have a little fun along the way.
Copyright 2018 The Lawrence Journal-World. All rights reserved. This material may not be published, broadcast, rewritten or redistributed. We strive to uphold our values for every story published.