Paul Ulasien isn't a rat, doesn't want to be a rat and remains frustrated with the very notion that he's spent a career surrounded by and managed by an ever-increasing number of rats.
Now he wants to turn the tables and help all of us unwitting employees become workplace felines - or, at the very least, give us enough sense to hide the cheese.
"We're all racing," said Ulasien, a Lawrence resident, business professor, music promoter, freelance writer and, now, first-time author. "I don't care how smart you are, or how hard of a worker you are. People give all they can, get to be my age and they're just miserable. And they stay in the race.
"Sometimes, you don't have a choice."
That's where Ulasien's new book, "The Corporate Rat Race: The Rats Are Winning, A Game Plan for Surviving and Thriving in Corporate America," comes in.
In his book, Ulasien, 52, argues that the rats that dominate corporate America are those people who put their own interests, or those of groups of people, ahead of a business's greater good. The rodent metaphor has been around for years and will continue to endure, he says, as human nature often reduces people to their selfish needs.
Ulasien argues that people should work to understand the rat races going on within their own employers, and to work hard both to survive and thrive in spite of them.
After a career that has included playing trumpet in a symphony, pushing mounds of coal with a bulldozer and engineering new, futuristic technologies in telecommunications, Ulasien has leaned on co-workers, instructors and his own experiences to offer a few workplace suggestions:
¢ Always have an exit strategy from your job. If you get a promotion and spend all the money, you won't be able to leave easily if the pressures become too much. Always remain flexible.
¢ Follow the rules, both written and unwritten. Being a team player, keeping a clean cubicle and wearing appropriate attire all are crucial to success.
¢ Protect yourself. "Everything that we do, especially when it concerns matters of conflict and confrontation, needs to be documented, saved and filed at work," he writes. Designate a person to cover for you when you're gone. Don't let inattention to detail leave you susceptible to unwarranted blame.
¢ Avoid gossip and pettiness at the watercooler. It just wastes time, and can lead to distractions, and impediments, to your advancement and success.
¢ Play to your strengths, combining both passion for the job and an ability to do it.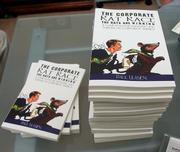 ¢ Seize opportunities. Many companies offer training classes, certification programs, tuition reimbursements and other benefits. Use them. They can lead into new interests and bolster efforts for advancement.
¢ Embrace change. One of Ulasien's previous employers had encouraged, but not mandated, its engineers to get certified. Some did, others didn't. When it came time for layoffs, all of those who had earned certification survived; many who did not were laid off. "You must anticipate and be prepared for change when it comes," Ulasien writes, "for it will come."
His book, from PublishAmerica in Baltimore, is being released today and is available at area bookstores and through online booksellers. For more information, go to www.ratracebooks.com.
About the Author
Name: Paul Ulasien Occupation: President and co-owner, DeafCat Music/Records LLC, Lawrence; professor of business, University of Phoenix in Kansas City, Mo.; author, freelance writer. Previous work experience: Emerging technology engineer, Sprint Corp., Overland Park; information technology manager, Marsh & McLennan, Kansas City, Mo.; equipment operator and field computer engineer, Board of Public Utilities, Kansas City, Kan.; engineering technician, Black & Veatch, Kansas City, Mo.; trumpet player, Kansas City Philharmonic Orchestra. Education: Associate's degrees in foreign languages and computer engineering technology, Kansas City Kansas Community College, 1970 and 1987; bachelor of business administration, Baker University, 1998; master of business administration, Baker University, 2002.
Copyright 2018 The Lawrence Journal-World. All rights reserved. This material may not be published, broadcast, rewritten or redistributed. We strive to uphold our values for every story published.