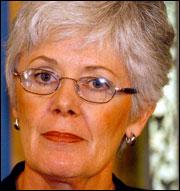 Kansas Insurance Commissioner Sandy Praeger launched her re-election bid today by filing as a candidate in the Douglas County Clerk's office.
Speaking to about 30 friends and supporters in the courthouse, Praeger, a Republican from Lawrence, promised to continue efforts to seek balances between the insurance industry and consumer interests.
"To have a healthy insurance marketplace it must be good for business and responsible to consumers," Praeger said.
Praeger cited her office's accomplishments since she became commissioner, touting increased efficiency and effectiveness while reducing the office operating budget by 5 percent.
She also said 90 new companies have set up business in the state, bringing the total of insurance companies competing in the market to more than 1,700. Praeger boasted of a reduction in consumer complaints and increased recovery of money from disputed claims totaling about $35 million.
Praeger planned campaign stops today and Tuesday in several Kansas cities in addition to Lawrence. Accompanying her was former Kansas Atty. Gen. Bob Stephan, a long-time friend and now her campaign manager.
"She has an empathy for people that very few people in public office have," Stephan said of Praeger.
Praeger is being challenged by Republican Eric Carter, a state representative from Overland Park. He had already filed for office. State Rep. Bonnie Sharp, D-Kansas City, has announced her intention to run as well but had not filed as of today. The filing deadline is June 12. The primary election is Aug. 1 and the general election is Nov. 7.
Copyright 2018 The Lawrence Journal-World. All rights reserved. This material may not be published, broadcast, rewritten or redistributed. We strive to uphold our values for every story published.