AUBURN HILLS, MICH. — When LeBron James had the ball, he saw Detroit Pistons defenders to his left, to his right and straight ahead.
The Pistons also had James seeing triple at the other end of the court.
Detroit made 10 three-pointers in the first half - one shy of an NBA playoff record - to open a 21-point lead at halftime before cruising to a 113-86 victory over the Cleveland Cavaliers on Sunday in Game 1 of their second-round series.
The Pistons finished with a franchise playoff-record 15 three-pointers, on 22 attempts, and missed only one of their 11 attempts beyond the arc before halftime.
"They're going to sweep the rest of the playoffs if they shoot like that and win the NBA championship," James said. "We shot 50 percent and had only six turnovers in the first half and were down 22. It's hard to explain that."
James scored all of his 22 points in the first half, but the 21-year-old star had to work for each one. Triple-teamed at times, James was forced to take difficult shots or defer to teammates who didn't respond by making shots of their own.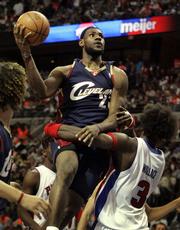 "The team has to be in a zone situation behind me," said Tayshaun Prince, who led Detroit's "LeBron Rules" defense.
James didn't play in the fourth quarter after he was held scoreless in the third while the Pistons built a 30-point lead.
Prince made James work on defense, too, scoring 24 and tying his playoff record.
The two-time defending Eastern Conference champions turned the game into a rout with a franchise-playoff-record 43 points in the second quarter against a team in the second round for the first time since 1993.
The Pistons had four double-figure scorers in the first half alone, including reserves Antonio McDyess and Lindsey Hunter. Each had 12 at halftime - outscoring every Cavs player not named James in the first half.
Richard Hamilton scored 20, Chauncey Billups had 14 points and 10 assists, and Rasheed Wallace added 10 points and seven rebounds.
Ben Wallace, the NBA Defensive Player of the Year according to an Associated Press source, had 11 rebounds and four blocks for the Pistons.
Cleveland's Zydrunas Ilgauskas had 14 points after a poor series against Washington in the first round. The Cavs, who didn't have a third double-digit scorer until the fourth quarter, got 11 points from Anderson Varejao.
The Cavs played about 40 hours after their Game 6 victory at Washington in overtime, flying home and then to suburban Detroit. Meanwhile, the Pistons had a day off and two days of practices after eliminating Milwaukee in five games.
"It was up to us to jump out early after the first round they had," Prince said. "I think they had some tired legs."
Spurs 87, Mavericks 85
San Antonio - Tim Duncan scored 20 of his 31 in the first half to boost his worn-out teammates, and Bruce Bowen topped his stifling defense on Dirk Nowitzki by hitting the game-winning three-pointer with 2:15 left.
The Spurs were playing just 36 hours after closing out their first-round series in Sacramento, while the Mavs had been off since Monday. But at game's end, when the difference should've benefited Dallas the most, it was San Antonio that persevered.
Dallas tied it at 84 on a free throw by Josh Howard, but managed only one free throw the rest of the way.
Copyright 2017 The Associated Press. All rights reserved. This material may not be published, broadcast, rewritten or redistributed. We strive to uphold our values for every story published.