Knee-deep in lagoons of muck, Lawrence High School students served, volleyed and spiked to celebrate another school year Sunday.
That is, if they could ever get their feet to move.
"Yeah, you get stuck sometimes," Morgan McQuay said. "But that just makes it 10 times funnier."
McQuay stood on the sidelines, wearing mud-caked pants, as her Schwaisted teammates drilled winners over the net.
The school's 21st annual mud volleyball tournament at Broken Arrow Park held much of the same for this batch of high schoolers - revelry, competition, absolutely ruined clothing.
But organizer and LHS teacher Jo Huntsinger said that this year's end-of-the-school-year bash was certainly two things: cold and wet.
The cold weather typically detracts from kids mulling around after they leave the volleyball pits. Still, even while soaked in mud, students stayed after games to chat with friends and family.
"It was cold, but the kids were fantastic," Huntsinger said.
Then, it was wet - not from the sky Sunday, but from the ground.
Photo Gallery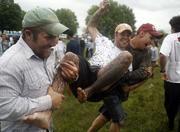 Mud volleyball tournament
The seemingly endless rain over the last few weeks drenched the pits and most of the field around them on the south end of the park.
For as long as Huntsinger could remember, the Wakarusa Fire Department had to bring a truck out to soak the volleyball pits. Not this year, as algae-covered water sat ready when organizers arrived.
"We had so much rain, we didn't have to add a drop of water," she said.
Which made little difference for the competitors, all striving for victory on 40 teams, not including two faculty teams.
On a table near the sign-up booth, poster board displayed the bracket, each line containing team names like "Budda McChedda" and "Death Zuccinni." McQuay's "Schwaisted" team name didn't quite make it, replaced by the more tame "Team Four."
Daniel Green hovered above the board after a game, his face and arms and most everything else caked in dry mud.
He pointed at a name on the far end of the bracket: "Ballwackers."
"These guys are the two-time champs," Green said.
His team, "To Be Determined," had its radar locked on the champs, he said. But Ballwackers had a senior-laden team that was going for a third title.
For Green's team or anyone else, it wouldn't be an easy task.
But after hours of competition in suctioning mud, Green's team was gone, leaving only Ballwackers and another senior-heavy group, "You Got Survd."
Although competition wasn't the only point here Sunday - the chance to hang with friends and celebrate the school year's end trumped all - the Ballwackers did get, um, Survd.
Copyright 2018 The Lawrence Journal-World. All rights reserved. This material may not be published, broadcast, rewritten or redistributed. We strive to uphold our values for every story published.