A Kansas University softball player struck an historic home run Saturday.
No, it wasn't Serena Settlemier.
Jessica Moppin's tape-measure three-run homer capped a five-run fifth inning and carried KU to a 5-0 victory over Iowa State at Arrocha Ballpark.
"She got every piece of the ball you can hit," Kansas coach Tracy Bunge said of Moppin's monster mash off ISU right-hander Alyssa Ransom.
Kassie Humphreys, who tossed a one-hitter for her 14th win of the season, watched Moppin's moon shot in awe.
"I was in the bullpen when I saw it, and it was unbelievable," Humphreys said. "It was a bomb."
Moppin became the first Jayhawk and only the second player to deposit a ball onto the football practice field high above the left-field fence.
To land on the football field, a batted ball must clear a second fence 10 yards behind and at least 10 yards higher than the one at Arrocha.
"We do it a lot in practice," Bunge said. "In a game, I've seen Serena hit a line drive off the football fence."
Settlemier, KU's single-season and career home run leader, was on first base when Moppin, a senior second baseman, launched her rocket.
"I just got hold of it," Moppin said matter-of-factly. "It was inside and low, right where I like it."
Moppin's 29th career home run - her fifth of the season - broke, coincidentally, a 29-game homerless drought.
Photo Gallery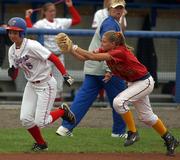 KU softball vs. ISU
"I was just waiting for my pitch," she said.
The only other home run to reach the football practice field was struck by Utah's Kate Nygaard on March 6, 2004 - opening day at the Jayhawks' 3-year-old softball facility.
Moppin's orbiter overshadowed another strong performance in the circle by Humphreys. Shortstop Cary Akins collected ISU's lone hit, a squib shot that knuckled over first baseman Nicole Washburn's head with two outs in the fifth.
"Kassie threw a really solid game," Bunge said. "All they had was one dink hit."
Humphreys fanned nine Cyclones, but struggled at times with her control, issuing five walks.
"I'd say it was a decent performance," said Humphreys (14-16). "I'd like to cut down on the walks, but I wouldn't mind giving up 10 or 12 hits as long as the other team didn't score."
Stevie Crisosto and Destiny Frankenstein had stroked RBI singles off Ransom prior to Moppin's no-doubter, giving Humphreys - often a victim of poor offensive support - a rare five-run cushion.
"It was exciting and relieving all at the same time," Humphreys said. "It took our energy to the next level."
Kansas (29-24 overall, 7-10 Big 12) will need to maintain that energy level today in order to have a chance to finish sixth in conference standings and avoid a play-in game in next week's Big 12 tournament in Oklahoma City.
KU will conclude the regular season at 1 p.m. today against the Cyclones (23-26, 5-12). Fifteen minutes prior to the start, Moppin, Settlemier, Frankenstein, Nettie Fierros, Heather Stanley and Ashley Goodrich will be honored on Senior Day.
Copyright 2018 The Lawrence Journal-World. All rights reserved. This material may not be published, broadcast, rewritten or redistributed. We strive to uphold our values for every story published.