The sanctuary at First United Methodist Church is so quiet you could hear a dollar bill drop from the offering plate.
Dan Abrahamson settles into his bench - the same seat he's occupied at church each Sunday for 42 years.
He cues the trumpets. Brings up the strings and woodwinds. Poises his hands. And the hall swells with the booming sound of an orchestra playing a prelude.
Yet there's not a horn, violin or clarinet in sight.
Instead, the music surges from the towering copper pipes above the altar, and Abrahamson alone is responsible for producing it.
He's the church organist - has been for more than four decades.
And he takes his job seriously.
"The organ music in church is supposed to uplift the people," Abrahamson says. "It's supposed to help them celebrate, and it's supposed to help them be sad at a funeral and joyful at a wedding. If the organist participates in that and does the right thing with the organ, they enhance the whole situation."
Photo Gallery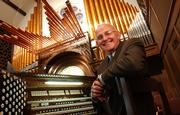 Dan Abrahamson
Today he's just giving a demonstration. The real show comes on Sunday morning, when Abrahamson plays two services. A few parishioners linger, after most of the sanctuary has emptied, to hear him finish the postlude. They always applaud at the end.
They'll give their final ovation on May 28, when Abrahamson plays his final service. The 70-year-old is retiring from his post as church organist.
It's not that he's no longer capable of dazzling the congregation.
"I want to stop while they still want me," he says. "I know of instances in my work where someone should have retired long ago and they don't know it. I'm still playing more right notes than wrong notes. That's important."
Protecting an investment
Abrahamson will leave the church organ in far better shape than he found it when he took the gig in 1963, just two years after moving to Lawrence with his wife, Carol, to start a job at Reuter Organ Co.
Fresh out of the Army with a degree in sacred music from Illinois Wesleyan University and experience at two other organ factories, he recognized the instrument's shortcomings right away. Precious little maintenance since its dedication in 1939 had allowed falling plaster and water to damage the pipes and wooden chests.
"It had gotten to the point where there were so many things wrong that it was difficult to play," he says. "You had dead notes all over the place, and some stops didn't work, and others played all the time whether you wanted them to or not."
After a year of tip-toeing around the organ's weaknesses - and endearing himself to the church with his fine playing - Abrahamson sat the administration down in the chancel to make a point.
First he played a hymn in his usual competent way - dodging the organ's deficiencies as if he were accompanying a Sunday service. They loved it.
Then he played a hymn as if he were encountering the organ for the first time - warts and all. About four measures in, one man stood and yelled, "Stop! What are you doing to our organ?"
Saying goodbye
An invitation-only reception and roast for retiring First United Methodist Church organist Dan Abrahamson is planned at the church tonight. A recital by visiting organist Chelsea Chen will be at 8 p.m. at the church, 946 Vt. The concert is free and open to the public.
And Abrahamson replied, "Well, sir, a little playing is worth a thousand words. This is what you really have here because you have not taken care of your investment."
They immediately agreed to spend $8,000 - no small sum in 1964 - to make Abrahamson's recommended repairs. They also agreed to let him continue to maintain the organ. They only asked that it be ready for church every Sunday morning and that he keep a log of all the work he performed.
More than 40 years later, that log book is nearly 4 inches thick. And that organ - which started with 44 sets of pipes - has grown to 122. That's 1,114 individual pipes. The largest stands 16 feet tall. The smallest is the size of a pencil.
It's by far the biggest pipe organ in the state, and outsizes most in the region.
"You have to go to either Denver or Tulsa or Chicago or Minneapolis to find bigger instruments," Abrahamson says. "It doesn't need to be any bigger. There's no more space. It is an extremely complete instrument."
Master of voice
Abrahamson started piano lessons at age 7 and had his first experience with the organ when he arrived at church one Sunday in his hometown of Appleton, Minn. The pastor asked him to sub for the regular organist, who hadn't shown up. He knew Abrahamson, then 16, played the piano. What he didn't know was that there's a big difference between playing the piano and playing the organ.
Nonetheless, Abrahamson gave it a whirl and thought it was fun.
"I don't know what it sounded like," he says, laughing. "I'm sure the notes were correct. Whether the technique was right or not, who knows."
His interest was piqued.
He snagged a few organ lessons from his older sister, who was studying the instrument at Boston University, and secured a job at Wicks Organ Co. in Highland, Ill. Later, while attending college in Bloomington, Ill., and serving as organist at a Presbyterian church there, he met his future wife. They married in 1961, after Abrahamson finished his Army service, and moved to Lawrence.
For "40 years, four months and four days," Abrahamson worked at Reuter Organ Co. He spent most of his career there as a voicer, a technician who makes organ pipes "speak." He traveled around the country, making sure Reuter organs sounded their best after they were installed, and has voiced most of the organ pipes in Lawrence.
'Member of the family'
And all the while, he spent what little free time he had - he and Carol had four children - building the instrument at First United Methodist Church with an annual budget of just $200.
Robert Vaughan, who started working with Abrahamson at Reuter in 1969 and now is production director for the shop, says Abrahamson accomplished minor miracles on that shoestring. He bought Reuter's surplus pipes at scrap value and adjusted them to his needs. He milled used wooden framing into reusable lumber and built organ cases.
"He made the pipes; he made the chest," says Vaughan, also a member of First United Methodist Church. "When you're working with scrap, $200 goes a long way. If you bought a new set of pipes and a new chest, you're sinking five figures."
Vaughan estimates Abrahamson added more than $1 million in value to the organ, which is worth around $2 million today. He calls it "Dan's electric train."
"Anybody who has a model railroad has a system that is never finished. They're always adding something," Vaughan says. "This organ to Dan is like a model railroad to a model railroad guy."
Alan Fisher, who hired Abrahamson at Reuter and retired in 1994, remembers his former employee as a hard worker who paid meticulous attention to detail. Abrahamson's playing, Fisher says, is one of the reasons he attends First United Methodist Church, and he's having a hard time picturing Sunday service without Abrahamson at the organ.
"I kind of wonder how he's going to not be the organist," Fisher says. "I have a feeling that he loves that organ. I have a feeling he thinks that's a member of the family."
New blood
In some ways, it is.
His wife, Carol, who sings in the church's choir, is among those who linger after service to listen to her husband play. And she's come to depend on him through the years to accompany her when she sings solos in church.
"I really get worried when someone else has to accompany me because I know that he can compensate for me when I make a mistake," she says, laughing.
His biggest contribution to the church, Carol says, has been his personality as much as his playing.
"He notices when things need to be fixed, and he pursues the upkeep of the organ. Most of the upkeep has been a gift from him to the congregation," Carol says. "But I don't think he does it because it makes it necessarily easier for him to play the organ, although it does.
"I think it's his part of the mission of the church. It's something that he can do, so he's using his gifts and graces along with something that he loves."
For now, Dan Abrahamson continues to rehearse about four hours a week in preparation for Sunday services. He's also serving on the committee tasked with finding his replacement. Far from being bittersweet, he says, the search process has been fun.
"This is just like Christmas to me because I enjoy listening to other people play and seeing what they do. No two people do it alike," he says. "My biggest job after that will be to stay out of the way of the person coming in."
Copyright 2018 The Lawrence Journal-World. All rights reserved. This material may not be published, broadcast, rewritten or redistributed. We strive to uphold our values for every story published.