Minneapolis — With the only run knocked in by their light-hitting backup catcher and 11 men left on base by their opponent, the Kansas City Royals finally won a road game.
And they weren't afraid to smile about it, either.
Paul Bako's two-out, second-inning RBI single kept Kansas City from tying a dubious record and helped the Royals end a 13-game road losing streak with a 1-0 victory over the Minnesota Twins on Thursday night.
"Everybody gets a good feeling out of this," Royals first baseman Doug Mientkiewicz said. "This group deserved to win finally."
Kansas City's Jeremy Affeldt (2-2) survived five shaky innings against a Twins team that turned in its third straight quality start - only to watch the offense stay dormant.
Joel Peralta tossed a scoreless sixth, Elmer Dessens did the same in the seventh and eighth and Ambiorix Burgos worked a perfect ninth for his third save to finish the five-hitter - wasting a fine start by Minnesota's Carlos Silva (1-5).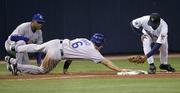 "More than saying we won a game on the road," Bako said, "we just want to play better baseball."
The Royals (6-20), who also stopped a six-game losing skid overall, were beaten in their last road game of 2005 and their first 12 away from home this year. Only the 1969 Houston Astros and 1988 Baltimore Orioles, with 13 each, have started a season with more consecutive losses on the road.
"I think we should all be proud of how we played tonight," Affeldt said.
Manager Buddy Bell canceled batting practice to shake up the routine, but it really wasn't a resurgence by the lineup that stopped the streak. Kansas City has scored only six runs in its last seven road games.
The Twins were simply lifeless again at the plate, a major reason why their string of three straight division titles ended last year. Their team batting average dropped to .249 after Affeldt baffled them with his erratic performance.
"He made pitches when he had to," manager Ron Gardenhire said. "He'd throw three balls over our head and then three nasty pitches. He got out of it. He got five innings, and he beat us."
One of the many Twins pitchers who stumbled through the season's first month, Silva allowed only one run in seven strong innings - just like Johan Santana and Brad Radke did on Tuesday and Wednesday. The difference was they got some help.
"Silva deserved better than that," Gardenhire said. "He did what he had to do. We just didn't have enough quality at-bats."
Silva, named Minnesota's most improved player last season while leading the majors in fewest walks per nine innings and posting a 3.44 ERA, was awful in April. His ERA was 10.31, including 22 hits, 16 runs and seven homers given up in his last two starts alone - a total of 8 1-3 innings.
Given an extra bullpen session to examine his mechanics, the Twins determined the right-hander was turning his head toward first base during the delivery. With that flaw fixed, Silva was much better - even though his trusty sinker wasn't working the entire time.
He had strong defense behind him, though, and the only blemish came in the second inning when Bako rapped a two-out single to drive in Emil Brown. Bako, a career .239 hitter who went 2-for-4 to raise his season average to .143, ended an 0-for-16 drought with the hit.
Silva gave up eight hits and one run while walking one and striking out two, a big boost for a staff that entered the game with a majors-worst 5.94 ERA.
"It was like I never moved my spots, like I threw the ball wherever I wanted to," Silva said.
The Twins had a runner on in every inning against Affeldt, who walked a career-high six - including three in the third that loaded the bases with two outs before Lew Ford struck out.
Ford walked to loaded the bases with two outs in the fifth, but Justin Morneau grounded out.
"You've got to be so patient. ... It's tough to zero in on a guy like that," said Shannon Stewart, who was caught too far off second base and tagged for the second out of the fifth when Affeldt leaped off the mound to snag Joe Mauer's comebacker.
Notes: Royals right fielder Reggie Sanders was removed in the third because of tightness in his left hamstring. He's day to day. Twins second baseman Luis Castillo, turning a double play in the same inning, was spiked by Kerry Robinson's takeout slide and suffered a cut on his shin. He's expected to be available Friday. ... Sanders was hurt chasing a double down the line in the second inning. He's day to day. ... Mientkiewicz, playing his first series at the Metrodome since Minnesota traded him to the Red Sox in July 2004, drew a fourth-inning walk that ended a span of 133 plate appearances and 33 innings without a free pass issued by the Twins.
Copyright 2018 The Associated Press. All rights reserved. This material may not be published, broadcast, rewritten or redistributed. We strive to uphold our values for every story published.