Chicago — Shaquille O'Neal took a seat near his locker, wearing a gray vest and slacks, a tie and pinstriped shirt. He looked sharp during the game, too.
O'Neal dominated, Dwyane Wade played well despite a bruised left hip, and the Miami Heat never trailed in eliminating the feisty Chicago Bulls, 113-96, on Thursday night.
The second-seeded Heat won the best-of-seven series 4-2 and will meet the third-seeded New Jersey Nets in the Eastern Conference semifinals. Miami swept the Nets in the first round last year.
O'Neal had 30 points and 20 rebounds while staying out of foul trouble as Miami won its first playoff series against the Bulls and its first postseason game in Chicago.
"I knew coming into the game that I was going to my finesse game," said O'Neal, who was 13-of-24 from the field. "I wasn't really trying to use the power because I was going to go to my jump hooks, turnarounds, fadeaways. I came in with the mind-set I was going to stay out of foul trouble - don't help, don't commit any silly fouls."
Wade scored 23 points, and although he spent more time on the perimeter than usual, he was 7-of-12 from the field, including 2-of-3 on three-pointers.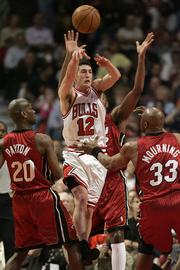 Wade injured his hip late in the first half of Game 5 on Tuesday, when he landed awkwardly after having his layup blocked by Michael Sweetney. He was injected with a painkiller at halftime, returned midway through the third quarter and scored 15 of his game-high 28 points to lead the Heat to a 92-78 victory.
James Posey scored 18 points for the Heat on Thursday, while Udonis Haslem added 17 points and 14 rebounds.
Chicago's Kirk Hinrich and Ben Gordon scored 23 and 21 points, respectively, after shooting a combined 6-for-29 in Game 5. Andres Nocioni added 20 points.
After shooting just under 35 percent in Game 5, the Bulls missed 11 of their first 12 shots Thursday and finished 31-of-75 (41 percent). They were 10-for-30 on 3-pointers.
The Heat finished 38-of-77 from the field, including 11-of-25 on threes.
"For a team that's supposed to hang its hat on defense, we just did a pretty poor job this series," Hinrich said.
Trailing 64-48 early in the third quarter, the Bulls scored seven straight points, capped by Nocioni's transition basket that brought the crowd to its feet. But after a timeout, O'Neal went 1-of-2 from the line and jammed in a miss by Wade to make it 67-55.
The Bulls pulled within 97-88 on Gordon's three-point play with 4:58 left, but Haslem converted a three-point play after a miss by Posey at the shot-clock buzzer, and then hit a jumper. A steal and layup by Posey made it a 16-point game. O'Neal punctuated things with a dunk that made it 106-88 with 3:06 left.
But from the start, this was a different Shaq from the one who had struggled the previous few games.
"I told them, 'Just give me the ball,"' he said. "They knew what I wanted to do tonight. They knew I wasn't going to be in foul trouble. I wanted to close these guys out."
Nets 96, Pacers 90
Indianapolis - New Jersey overcame Anthony Johnson's 40-point effort to beat Indiana and advance to the Eastern Conference semifinals.
Richard Jefferson scored 30 points and Vince Carter added 24 for the Nets, who won the best-of-seven series 4-2. Jason Kidd approached a triple-double with eight points, 11 assists and 11 rebounds.
Jermaine O'Neal scored 21 points for the Pacers, who played without Peja Stojakovic for the fourth time in the series because of a sore right knee. The team's second-leading scorer in the regular season, Stojakovic played in Indiana's only two wins in the series.
Suns 126, Lakers 118, OT
Los Angeles - Boris Diaw and Shawn Marion each scored six points in overtime, Tim Thomas made two huge three-pointers, and Phoenix beat Los Angeles to force a Game 7 in the first-round Western Conference playoff series.
Kobe Bryant scored all but one of the Lakers' 13 points in overtime, and had 50 overall.
Game 7 will be played Saturday night in Phoenix, where the second-seeded Suns beat the Lakers 114-97 to send the game series to Los Angeles. The home team has a 75-17 advantage in NBA playoff Game 7s.
The winner of the series will face the Los Angeles Clippers - co-tenants of Staples Center with the Lakers.
Steve Nash led the Suns with 32 points and 13 assists, while Leonardo Barbosa, starting for the suspended Raja Bell, scored 22 points. Thomas had 21 points and 10 rebounds for Phoenix.
Copyright 2018 The Associated Press. All rights reserved. This material may not be published, broadcast, rewritten or redistributed. We strive to uphold our values for every story published.