It was an uncomfortable afternoon for the Seabury Academy girls soccer squad Thursday against Center Place at the Youth Sports Inc. fields.
The Seahawks faced a rain-soaked field, a style of defense they'd never played against before, a lack of depth and most significant, an early deficit.
But all of it wasn't enough to keep Seabury from a 4-3 victory.
"When I walked the field (Thursday) morning I didn't think it was playable," Seahawk coach Gunar Harmon said. "But it was a heavy field, longer grass, somewhat damp, which slows the ball down quite a bit. It takes the legs out of you, especially on the heavy side, on the mud side. So I started shifting players around trying to get who is best suited for that kind of play and I guess, as the score indicates, it was a good choice."
The Seahawks found themselves in a soggy situation within the first five minutes of play as they went down by one. Thirty seconds later, they were down by two.
It was difficult for Seabury to find any sort of offensive rhythm as it seemed like every attack was blown dead by an offsides call.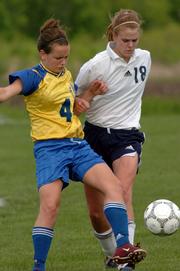 "We typically don't play teams that play to shorten the field that much," Harmon said. "And our forwards are not as experienced in dealing with that sort of trapping defense. So it took some adjustments to get them to recognize how to move away from the ball to get position."
After 20 minutes of looking up at the Eagles, Seabury's Ashley Tomassian knocked in the team's first goal, creating a 2-1 deficit at the half.
The second half was just as tedious for the Seahawk offense. Tomassian tied up the game 10 minutes into the second, a deadlock that only lasted three minutes before Center Place went back ahead.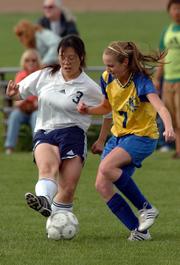 But down 3-2, the Seahawks' Regan Sisson, who had been the focal point of the Eagle defense, took her team the rest of the way.
After tying the score with 23 minutes remaining in regulation, Sisson put away the deciding goal off a bad goal kick with six minutes left.
"It was hard for us in the first half to figure out what we had to do," Tomassian said. "But I think in the second half we kind of picked it up and realized we could go in and out of them and that's how we got some of our goals."
After Sisson put Seabury on top, Harmon turned to senior goalkeeper Lindsey Ahlen to shake off the three goals she gave up and hunker down for the final minutes of play.
"Lindsey's always important and she's awesome," Sisson said. "You can always depend on her to get it (the ball) up to the front even when there's lots of pressure."
Copyright 2018 The Lawrence Journal-World. All rights reserved. This material may not be published, broadcast, rewritten or redistributed. We strive to uphold our values for every story published.