New York — There is something plush about "American Masters."
The musicians, painters, writers, filmmakers and other visionaries profiled on this PBS series emerge in full measure, their stories told with satisfying resonance, each shedding light on a larger whole.
Such attributes might hardly be worth mentioning if the series didn't stand in stark contrast to most other biography TV, which tends to be a thin gruel of still photos, rote interviews and heavy-handed narration.
Meanwhile, those shows often practice a reckless egalitarianism: Martin Luther King, Scott Peterson and Britney Spears could well be equal in their eyes, with each subject given equal time and attention.
"American Masters" is poised to redeclare its distinctive approach as its 20th anniversary season begins at 8 p.m. Wednesday (check local listings). Not one but two masters are profiled in "John Ford/John Wayne: The Filmmaker and The Legend," an eye-opening account of a professional marriage: a timeless Western icon and the director who defined Wayne's image in the 14 films they made together.
Additional new profiles in coming weeks include Nat King Cole, Woody Guthrie, Marilyn Monroe, Walter Cronkite, Frank Gehry, Andy Warhol and Annie Leibovitz.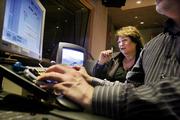 Past portraits getting encores include last season's epic "Bob Dylan: No Direction Home" (which won the latest of the series' seven Peabody Awards) and a pair of magnificent films profiling Judy Garland and Leonard Bernstein.
Those were produced by Susan Lacy, an American Master in her own right who, as executive producer, started the series in 1986.
While Lacy keeps her hand in as a documentary auteur, most "American Masters" profiles are made by others under her steady supervision.
Her job entails a dizzying litany of duties, not the least of which is wooing subjects (it took her a decade to get Dylan on board).
"The trick," says Lacy, "is to gain the subject's complete cooperation, without giving up any editorial control, then to get interviews with the people who matter."
At the other end of the process, she oversees the final cut.
One of her more demanding chores would never even occur to most viewers: negotiating use of copyrighted music or video excerpts without busting her budget.
The Ford-Wayne portrait boasts extended scenes from a half-dozen of their classic collaborations. It's a vital ingredient, she notes, and the sort of thing that sets "American Masters" apart.
"If we can't get the raw materials we need to really do it right, and not rely on still photographs and newspaper headlines, which anybody can do, I'd rather not make the film," says Lacy, dismissively citing another series' Bob Dylan profile that had none of his (costly to license) songs.
"It's a real effort to harness the history of our culture," declares Lacy, who sees the 142-and-counting "American Masters" films as more than a TV series. It's also a growing library, a work-in-progress for future generations.
Copyright 2018 The Associated Press. All rights reserved. This material may not be published, broadcast, rewritten or redistributed. We strive to uphold our values for every story published.