It is the type of news every landlord dreads hearing: There's been trouble at one of your properties.
When the trouble involves a fight that leads to six arrests and four people being sent to the hospital for treatment, it becomes a real headache.
Lawrence residents, do you have a headache yet?
Such a fight is what happened at Abe & Jake's Landing, a downtown night spot at 8 E. Sixth St. And in essence, every Lawrence resident is the landlord for the nightclub, which is in a historic former barbed-wire factory building just east of City Hall.
The city of Lawrence owns the old building along the Kansas River, and city commissioners lease it to Mike Elwell, an owner of Abe & Jake's Landing, who worked for 10 years to restore the building at his cost.
Thus far, city commissioners are being understanding landlords. The late April fight was the most recent of several assault incidents that landed the bar in the news. And the Lawrence Police Department reported that it responded to calls at the bar more than at several other large downtown nightclubs.
"We have had conversations with bar owners and other people in the past about problems that arise from time to time. It may be time for us to have one of those conversations with Abe & Jake's," City Commissioner Sue Hack said. "This one may land a little harder on our plates because we are the landlord."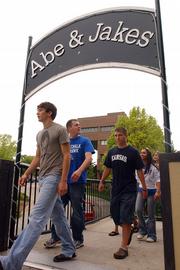 Elwell said he would have no problem discussing the bar's operations with city leaders.
"If they have a suggestion they would like to make to me, I would sure listen to them," Elwell said.
Taking steps
But Elwell said he believed he was taking appropriate measures to create a safe environment. He said that when the bar is open and isn't being rented by a particular group, he has taken the unique step of requiring patrons to show that they're students at one of the area universities.
"I'm not saying college students won't get in a fight," Elwell said. "They sure will. But we think they're less likely to bring a gun with them to solve their differences.
"Nobody wants trouble to go on in their business establishment. We're the same way."
As for the late April melee - which a police spokeswoman said resulted in 10 separate fights that sent more than 200 people into the parking lot - Elwell said it was difficult to predict that particular crowd was going to cause problems. The event was part of a Kansas Relays celebration that Elwell had hosted without problems in the past.
"Nobody knows what happened exactly," Elwell said of the fight. "That's the truth. I know we had 12 to 14 security people there, and they had a hard time handling what broke out."
Police activity
City commissioners, though, said the amount of time police officers are at the establishment is as much of a concern as any one event.
The Journal-World asked the police department to generate a report detailing how many police calls had occurred at Abe & Jake's compared with several other large and prominent downtown night clubs. In 2005, there were 135 police calls at Abe & Jake's, the report said. That was higher than at the Last Call, 729 N.H., with 115; the Granada, 1020 N.H., with 80; and the Bottleneck, 737 N.H., with 26.
Through April of this year, Abe & Jake's also had call levels well above the other establishments. The bar had 63 calls during the time period, compared with 34 each at both the Last Call and the Granada.
The bar has made news with several incidents in the last couple of years. Those include:
¢ KU basketball player Rodrick Stewart in August was hit over the head with a bottle as he was leaving the bar. Reportedly, several fights had broken out inside the bar during the evening.
¢ In September 2004, KU football player Greg Heaggans was assaulted while at the night spot.
¢ In March 2004, an 18-year old Topeka man was arrested on suspicion of pulling a handgun on another man in a fight just outside the bar.
"We need to have a meeting with Mr. Elwell and find out what is going on," City Commissioner David Schauner said. "We need to find out why we're having so many calls. We need to find out why it is happening and how to bring it in line."
Hack agreed that the number of calls was a concern.
"Those calls are an expense the community bears," Hack said. "Every time a police officer is at that location, it means they can't be elsewhere."
Elwell said he was surprised that the police had recorded 135 calls to his business. He said some of the calls that were attributed to his location actually may be in response to incidents in the large city parking lot adjacent to the building. He said not all of the users of that lot were patrons of his business.
Lease details
Because of its unique role as the landlord, the city can more easily force Abe & Jake's to change its operations than it can other bars. As part of the 1999 agreement with Elwell - which charges him $4,800 per year, or $400 per month, for parking, and has renewals that could allow it to run into 2087 - there is a specific clause that gives the city the right to order, with "good cause," that Abe & Jake's stop the sale or consumption of alcohol at a time earlier than other licensed establishments in the city.
Thus far, city commissioners aren't contemplating invoking that clause of the lease.
"The numbers I saw do give me a little bit of concern," City Commissioner Boog Highberger said. "But I guess I'm not interested in imposing any additional restrictions at this point. But we have to keep an eye on the situation."
Several city commissioners said if new regulations are needed, they probably should look at them for the city's entire bar industry.
"Is there a reason, for example, to believe that we should require bar operators to have more on-site security? I don't know," Schauner said. "I don't think we're ever going to solve the problem, but I think we should explore putting better measures in place to ensure that there are less opportunities for actions to get out of hand."
Commissioners said they have not forgotten how out-of-hand some situations have gotten in downtown. In February, a shooting outside the Granada left one man dead and another injured.
"I know we are a college town, but we owe it to the residents of our community to make sure they feel safe in our downtown," Hack said. "If that requires some additional security requirements or a change in hours, we need to have that discussion. I know we definitely don't want to wait until the next tragedy."
Copyright 2018 The Lawrence Journal-World. All rights reserved. This material may not be published, broadcast, rewritten or redistributed. We strive to uphold our values for every story published.