Stick another shining star on the storybook softball season of Serena Settlemier.
Settlemier, Kansas University's slugging senior, smashed her 21st home run Wednesday at Arrocha Ballpark, enabling the Jayhawks to trim Wichita State, 2-1.
"Amazing Serena came though again," Kansas coach Tracy Bunge said.
What made Wednesday's sixth-inning wallop all the more amazing was the tension evoked by a rain delay of nearly two hours.
At 4:24 p.m., Settlemier was in the batter's box facing WSU right-hander Margo Pruis, with teammate Stevie Crisosto, who had walked, on first base. Not only were the Jayhawks trailing, 1-0, they hadn't managed a hit off Pruis.
In the meantime, heavy rain had begun to fall, and after Settlemier had taken a ball, the umpires called time. Everyone scurried for shelter.
The downpour lasted 20 minutes, and water pooled all over the infield. No problem. Arrocha Ballpark's infield is made of a synthetic polymer that sheds water.
"Any other field," Bunge said, "and we're not playing again."
Another shorter shower delayed the drying process, but the field eventually was declared playable by the umpires, and at 6:22 p.m. - exactly one hour and 58 minutes later - Settlemier stepped into the batter's box again.
Seconds later, Settlemier drilled Pruis's first pitch over the left-field fence, scoring Crisosto ahead of her.
Photo Gallery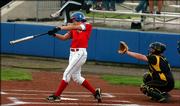 KU softball vs. WSU
"That was definitely the most dramatic moment in my career," Settlemier said.
During the rain delay, the Jayhawks had spent about an hour in their locker room in Allen Fieldhouse. When they returned to the ballpark, Settlemier went directly to the batting cage and had outfielder Heather Stanley pitch to her.
"I took probably 50 cuts, and I told Heather to throw me everything inside," Settlemier said, "because she (Pruis) had been throwing everything inside, and we hadn't adjusted."
Sure enough, Prius' first pitch after the rain delay was inside, and Settlemier deposited it into the berm in front of the fence on the football practice field.
"I think there was more pressure on me mentally than anything," Settlemier said, "because I had all that time to think I would be up there, and their pitcher was throwing a no-hitter."
Pitcher Kassie Humphreys disposed of the Wheatshockers in order in the top of the seventh - all on ground balls to shortstop Destiny Frankenstein - for her 13th victory.
Frankenstein won't remember those grounders, though. They'll be overshadowed by Settlemier's dramatic moment.
"I don't know that it was so much dramatic as it was different," Frankenstein said. "It was one of those memories you'll have forever. Years from now we'll be talking about it."
Notably, the two-run homer gave Settlemier 115 career RBIs, one more than previous KU leader Camille Spitaleri. Settlemier is also KU's all-time home run leader with 43.
Field conditions wouldn't have prevented the second game of the scheduled twinbill from being played Wednesday, but Arrocha Ballpark does not have lights, and the nightcap was called off by mutual agreement.
"By 8 o'clock," Bunge said, "we'd have had a real problem with no lights."
Thanks to Settlemier and to Arrocha's fast-drying infield, the Jayhawks retained slim hope of earning an NCAA Tournament berth.
KU (28-24) will conclude the regular season with home games Saturday and Sunday against Iowa State.
Copyright 2018 The Lawrence Journal-World. All rights reserved. This material may not be published, broadcast, rewritten or redistributed. We strive to uphold our values for every story published.