A Kansas University chemistry professor will speak today on Capitol Hill, weighing in on the national debate about how to keep America competitive in science and technology.
Joe Heppert, chemistry professor and director of KU's Center for Science Education, will tell members of the House Science Committee that the National Science Foundation should be recognized as a major player in improving K-12 math and science classes.
"My hope is I can speak from the perspective of a faculty member," said Heppert, who also serves as chairman of the American Chemical Society's Committee on Education.
Spurred in part by the best-selling Thomas Friedman book, "The World is Flat," some are waking up to concerns about American competitiveness in science and technology in the global economy.
"People are starting to say, 'Hey, we're falling behind here,'" said Janice Earle, a senior program director with the foundation. "I think it's re-emerging as an important general issue."
In this year's State of the Union address, President Bush launched the American Competitiveness Initiative. It called for, among other things, doubling funds for research to the foundation and other federal agencies.
Those close to the issue want to press lawmakers to make sure the foundation's education function receives as much focus as its research function, said James Brown, the American Chemical Society's senior legislative associate for education.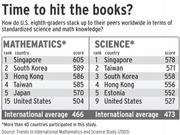 "I believe there's a great consensus that NSF's role in science education can be vastly enlarged," Brown said.
The foundation provides funding for cutting-edge research in science and education. For example, the foundation recently gave funds to the College Board to rethink the Advanced Placement science courses.
Heppert will recommend to Congress that proposed legislation recognize the foundation's role in improving K-12 math and science education. He'll also suggest the foundation maintain its strong educational research focus and spend money increasing the number of K-12 teachers in science, technology and math.
Studies show the United States lags other countries in student math and science performance.
A 2003 report, called the Trends in International Mathematics and Science Study, placed U.S. eighth-graders' math performance behind that of students in such countries as Singapore, South Korea, Hong Kong and Japan. In science, American eighth-graders also performed worse than students in these and other countries.
Earle said there are schools in the United States where students do as well as those in other countries. But there are also areas where student performance compares with that of Third World countries.
"We still have too much bifurcation in the system," she said.
Copyright 2018 The Lawrence Journal-World. All rights reserved. This material may not be published, broadcast, rewritten or redistributed. We strive to uphold our values for every story published.