The leader of the country's largest business organization said Tuesday that the roughly 12 million illegal immigrants in the U.S. are vital to the country's economy.
"Can you really imagine what would happen if we sent all of them back?" Maura Donahue, chairwoman of the U.S. Chamber of Commerce, asked at a Lawrence Chamber of Commerce luncheon event at the SpringHill Suites by Marriott. "It would devastate our economy."
Donahue said the U.S. Chamber was pushing for a middle-ground proposal - now currently in the Senate - that would enforce and strengthen border security but allow illegal workers to remain in the country while becoming legal.
Donahue said an immigrant work force would become increasingly important as 77 million baby boomers in the U.S. begin to retire.
"We don't have enough workers to replace these people," Donahue said.
Several Lawrence business leaders who attended the luncheon event said they supported the approach the U.S. Chamber was advocating.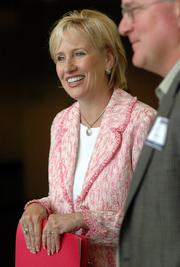 "It would be a huge mistake to try to send them elsewhere," said Peter Steimle, manager of Sedona Staffing Services. "We're absolutely going to need the people. Business expenses are going to go through the roof once the baby boomers begin to retire. An immigrant work force is an opportunity to control some of those costs."
But Steimle said the federal government also needed to recognize that illegal immigrants were creating costs for governments in many regions of the country because the illegal immigrants consume more in social services than they add to the economy.
Those regions of the country, he said, deserve some financial assistance from the federal government.
Donahue - who in the private sector serves as president of a Louisiana-based construction company - also touched on several other topics during the luncheon, including:
Coming speakers
Future events in the Lawrence Chamber of Commerce's Spring Luncheon Series: ¢ May 16: Alan Mulally, president and CEO of Boeing Commercial Airplanes. ¢ May 31: Jim Haines, president and CEO of Westar Energy. The luncheons are at noon at SpringHill Suites by Marriott, 1 Riverfront Plaza. The cost is $25 for chamber members and $35 for nonmembers. To register, click on www.lawrencechamber.com or contact Cathy Lewis at 865-4406 or Kim Wampler at 865-4411.
¢ Health care reform. Donahue said she was disappointed that Congress had not made health care issues more of a priority during its current session. She urged legal reform to reduce frivolous lawsuits against doctors, legislation that would make it easier for small businesses to form cooperatives to purchase health insurance, and efforts to reduce administration costs within the insurance and health care industries.
¢ Rebuilding of the Gulf Coast. She was critical of the slow responses of both the Small Business Administration and the Federal Emergency Management Agency following Hurricane Katrina. She said the storms highlighted the importance of making sure businesses had a plan to fend for themselves during emergencies.
She said her family's construction company had a disaster plan before Katrina, but it relied heavily on the use of cell phones for communication. That didn't work well, because many cellular towers in the New Orleans area were destroyed.
"Are you prepared for a disaster?" Donahue asked. "Do you have an emergency preparedness plan? If you don't, shame on you. If you do, re-examine it and rethink it."
Donahue was in Lawrence to visit her nephew, Lawrence resident Hal O'Donnell, a vice president at Intrust Bank. She was the first speaker in the chamber's Spring Luncheon Series.
Copyright 2018 The Lawrence Journal-World. All rights reserved. This material may not be published, broadcast, rewritten or redistributed. We strive to uphold our values for every story published.