Miami — Dwyane Wade raised three fingers skyward, the number of victories the Miami Heat now have in this series.
Moments later, he raised just one - indicating how many more the Heat need to advance.
With his hip smarting and bruised from a frightening first-half tumble, and his team trailing by five in the season's biggest game, Wade returned to save the Heat's day - and perhaps their season - in a 92-78 victory over the Chicago Bulls on Tuesday night.
"I sent word to the locker room," Shaquille O'Neal said, "that we needed him."
Wade scored 28 points, 15 of them coming after a scary stint in Miami's training room, and the Heat took a 3-2 lead in the Eastern Conference first-round series.
"A little shot in the butt," Wade said, describing the painkilling shot he took. "It started kicking in after a couple of minutes out there, and I felt good after that."
Wade didn't expect to be able to play more than a couple of minutes after the shot, even telling teammates his return would be brief. He didn't come out, though, until the game was decided.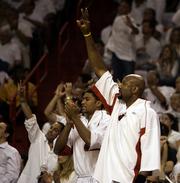 Antoine Walker scored 17 points, and O'Neal, playing one day after he became a father for the sixth time, added 16 points and 10 rebounds for the Heat.
Andres Nocioni had 23 points and 10 rebounds for the Bulls, who managed to shoot only 35 percent. Ben Gordon added 10 for Chicago - on 3-for-16 shooting, only slightly worse than backcourt-mate Kirk Hinrich's 3-for-13 effort.
"We feel like we got good looks," Hinrich said. "I thought all my shots were going in. When they don't, you get frustrated. We've just got to find a way."
Spurs 109, Kings 98
San Antonio - Tim Duncan, Manu Ginobili and Tony Parker helped San Antonio overcome a combined 62 points from Bonzi Wells and Ron Artest, giving the Spurs a 3-2 lead in their first-round series.
Ginobili led the Spurs with 27 points, nine rebounds and four assists. He scored 13 points in the final quarter, including six straight free throws.
Duncan had 24 points, nine rebounds and five assists.
Parker added 21 points, and defensive specialist Bruce Bowen scored 16.
Wells scored 38, including half of Sacramento's first 56 points. Once he cooled off, Artest got going, scoring 14 of his 24 points in the final period.
Nets 92, Pacers 86
East Rutherford, N.J. - Vince Carter had 34 points, 15 rebounds and a game-clinching dunk with 28 seconds to play as the Nets took a 3-2 lead in their first-round series.
Richard Jefferson added 24 points, and Jason Kidd set a team-postseason record with 15 assists as New Jersey won its second straight game in the series.
Jermaine O'Neal scored 19 points and Anthony Johnson 14 for the Pacers, who had five players score in double figures.
Suns 114, Lakers 97
Phoenix - The NBA's most improved player kept the Suns alive in the playoffs, and Kobe Bryant wasn't even around to see the finish.
Boris Diaw - presented with the most-improved trophy before the game - had 25 points, 10 rebounds and nine assists.
The Lakers still lead the best-of-seven series 3-2, with Game 6 Thursday night in Los Angeles.
Bryant, who scored 29 points, was thrown out after drawing his second technical foul with 3:11 to play.
Copyright 2018 The Associated Press. All rights reserved. This material may not be published, broadcast, rewritten or redistributed. We strive to uphold our values for every story published.