Swift ball handling skills and a strong defense easily allowed the Hoopsters to defeat the Hoosiers, 62-9, on April 24 at the East Lawrence Center.
The lead came quickly to the Hoopsters as they stuck to their strategic defensive game plan.
"We just played really good defense and ran the court well," Austin Hoag said.
"We had a lot of fast breaks and easy layups."
Indeed the Hoopsters hit hard with the four-consecutive baskets to start the game.
The compact but agile Rudy Hilliard hit his team's fourth basket. Three scores later, Hoag sunk a three-pointer with such finesse the net barely flinched.
The Hoopsters' defensive attack held the Hoosiers down until Jake Henley found the bottom of the net midway through the first quarter, giving the Hoosiers their only basket of the period as the Hoopsters took a commanding 17-2 lead.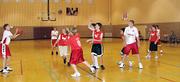 Hilliard pounded the boards and the Hoopsters scored five buckets in the second quarter, including a jumper by Chris Gatson that extended the lead.
Though lagging behind, the Hoosiers sunk two shots in the second with help from a Henley bucket. But the Hoosiers still could not break through the Hoopsters' impenetrable defense and were down 28-6 at halftime.
The Hoopsters continued to dominate in the third. The team tallied six buckets, including a three-pointer, and a smooth layup from Hoag.
Hoag said he set some objectives for himself before the game started, a plan that included his layup.
"I wanted to get in one three-pointer and two layups," he said.
Hoag's scoring was no match for the Hoosiers, whose only points in the third came via a free throw.
The Hoopsters stole the show in the fourth when Gatson swished a free throw, and Hilliard scored on a layup and followed with an assist.
Hoag said he was energized by his team's victory and looks forward to keeping his basketball skills sharp by playing in the league in the off-season.
Copyright 2017 The Lawrence Journal-World. All rights reserved. This material may not be published, broadcast, rewritten or redistributed. We strive to uphold our values for every story published.