The vacant Carnegie Library building will be converted into a new city-operated community center that will provide space for everything from wedding receptions to artistic performances to new recreation classes.
City commissioners on Tuesday night narrowly agreed to allow the Lawrence Parks and Recreation Department to use the facility rather than leasing the early 1900s building at Ninth and Vermont streets to the nonprofit Americana Music Academy.
Commissioners ultimately said the building should serve solely as a public building, especially because the city has plans to invest more than $1 million in renovating it.
"It's an irreplaceable facility," City Commissioner David Schauner said. "If we're going to spend a substantial amount of limited tax dollars on renovating it, my guiding principle has to be providing the greatest good to the greatest number of people."
Fred DeVictor, parks and recreation director, said he hoped the new community center - tentatively dubbed the Carnegie Community Center - would be open by late 2007. He told commissioners that he anticipated the building would fill a major need in the community for more rental space for events such as wedding receptions, recitals and anniversary parties that are too large for the city-operated Lawrence Visitor Center, 402 N. Second St., which already has hosted 100 such events this year.
"I think this really can end up being a major asset to the community," DeVictor said.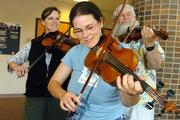 He said the new center also would allow the department to expand some of its dance classes, and look at adding new classes.
He presented commissioners with a preliminary list of some possible additions based on what other communities offer. Those included preschool tea party events, elementary cheerleading, resume workshops, wedding planning, parenting classes, basic car maintenance and English as a second language.
Commissioners chose the parks and recreation proposal on a 3-2 vote over a plan presented by the Americana Music Academy. Americana had proposed relocating from its current cramped offices to the Carnegie. Leaders of the academy - which provides lessons for everything from the guitar to the harmonica - had said the building would allow the academy to grow and help Lawrence become a "musical beacon of the Midwest."
Mayor Mike Amyx and Commissioner Boog Highberger voted to give Americana the chance to use the building, which most recently was home to the Lawrence Arts Center.
"I like the idea of being able to bring another new business into downtown, so to speak," Amyx said. "I think it would have been an opportunity for all of downtown to really enjoy."
Americana leaders said they were disappointed, but said the academy would continue to operate at its current location at 1419 Mass.
"We still have the energy to take our school to the next level," said Diane Gillenwater, president of the academy's board.
Gillenwater said she hoped the academy could work out an arrangement to use the performance space at the Carnegie one to two times per month. Several city commissioners said they wanted the city to work on creating such an arrangement.
DeVictor said he thinks the new community center won't need new tax dollars to pay for its operations. Based on the number of rentals at the Lawrence Visitor Center facility, DeVictor estimates the Carnegie building will generate about $90,000 in revenue from rentals and class fees. DeVictor said that would be enough to pay for the building's utilities and a staff, which mainly will come from existing parks and recreation employees who work at the South Park Recreation Center.
DeVictor said the center might need a one-time infusion of about $55,000 to equip it with furniture, a sound system and other items.
Downtown waterline project accelerates
City commissioners Tuesday evening unanimously agreed to speed up work on a downtown waterline replacement project.
Commissioners directed staff members to change the phasing of the project so work to replace two 100-year-old lines along Massachusetts Street could be completed by mid-September rather than mid-October as originally planned.
The new phasing will mean that both the 700 and 800 blocks of Massachusetts Streets will be torn up at the same time.
The project will allow one-way traffic on Massachusetts Street at all times. Parking also will be available on one side of the street.
Commissioners also agreed to give the contractor, Nowak Construction, $1,000 for each day the project is finished ahead of schedule.
Work on the $1.5 million project is scheduled to begin May 22.
Commission OKs bid for Kasold project
Commissioners agreed to accept a $5.4 million bid to rebuild Kasold Drive from Bob Billings Parkway to 22nd Street after the city's director of public works assured commissioners that a cost-saving design change wouldn't affect the quality of the road.
Chuck Soules, the city's director of public works, told commissioners that the removal of a drainable base for the road would not shorten the road's expected life span.
Soules said the street still would have a drainage system in place, and that the new design was nearly identical to how the state built major streets. He also said steps could be taken during the construction process if high groundwater levels are discovered. But he said engineers have drilled 14 test holes and have not found high groundwater in the area.
Work on the project will begin this summer. Construction is not expected to be completed until October 2007. One lane of traffic in each direction will be left open during the construction.
Zoning change rejected
On a 3-2 vote, commissioners denied a request to modify the zoning for a proposed commercial development at the northeast corner of Clinton Parkway and Wakarusa Drive.
Developers had sought to add some drive-through uses to the list of approved uses that could be built on the vacant lot. But commissioners denied the request based on concerns about the traffic it would create and an excess of retail space at the corner.
Mayor Mike Amyx and Commissioner Sue Hack supported allowing the development to move forward. Both said the intersection could handle the expected traffic, and that the city needed the additional tax revenue the commercial development would create.
City OKs study on sports facilities
Commissioners agreed to send out a request for proposals to study whether the community needs more recreational facilities.
A citizens group - Partners for Lawrence Activities and Youth - has asked the city, county, school district and Lawrence Chamber of Commerce to explore a public-private partnership to build new playing fields and recreation facilities.
Commissioners approved the feasibility study on a 4-1 vote. Commissioner David Schauner voted against the request, saying he didn't want to lead people to believe that there would be city money available to fund a new sports complex. Several other commissioners also said they wanted to be clear that they weren't yet agreeing to provide funding for the project.
CDBG plan approved
City commissioners approved the community's 2006 plan for spending Community Development Block Grant funding.
Commissioners were told that the CDBG funding the city will receive in 2006 has declined from $911,227 in 2005 to $816,981 this year. A related federal grant, called HOME Funds, has declined from $684,842 to $645,694.
The city uses the money to fund neighborhood associations that serve low-to-moderate income neighborhoods, low-income housing programs and social service agencies.
Judge sides with city in apartment case
A Douglas County District Court judge has thwarted efforts by a local developer to build a controversial apartment building at Seventh and Wisconsin streets.
District Court Judge Robert Fairchild has issued a ruling declaring the city was within its rights to deny a site plan for a 25-unit apartment building proposed by Harold Shephard.
Fairchild ruled that Shephard did not present compelling evidence that the city treated his project differently than other projects. Shephard said city commissioners should have approved the site plan because the city's staff of professional planners determined that the project met the technical requirements of the city's code.
But the court ruled that city commissioners were within the bounds of the law when they determined - in August 2004 - that the project would place a burden on nearby streets. Neighbors had opposed the project.
Copyright 2018 The Lawrence Journal-World. All rights reserved. This material may not be published, broadcast, rewritten or redistributed. We strive to uphold our values for every story published.