Pam Pine and her players know it was sometimes ugly.
So it helps to have a big broom to sweep the more unsavory moments away.
Neither a comedy of errors nor a lack of offensive production could keep the Free State High softball team from making history Tuesday. Thanks to clutch performances at the right moments, the Firebirds earned their first doubleheader sweep in the nine-year history of the city showdown, claiming 3-2 and 5-2 victories against Lawrence High at Holcom Sports Complex.
"It feels very sweet," said Pine, who has guided Free State in all nine editions of the rivalry. "I told the girls, it wasn't the prettiest doubleheader I've ever seen in my life. : (But) it was a good day."
Especially considering the way it started.
Pine's game plan to stay calm, score first and make the Lions play catch-up vanished before much of the capacity crowd settled into the sun-baked aluminum bleachers. Free State (13-3 overall, 7-2 Sunflower League) did nothing with the bats in the top of the first, then did nothing with its gloves in the bottom half.
Four errors - two on throws and two due to bad use of the leather - allowed LHS (6-8, 3-4) to grab an early 2-0 lead and all the momentum.
"I was not very happy," said Pine, asked what was going through her head while her squad flung the yellow sphere all over the field. "Like I've said, errors are contagious, and then they snowball, and bad things happen."
Photo Gallery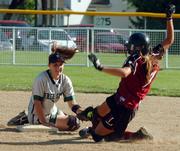 Lawrence High vs. Free State softball
Fortunately for Pine, senior right-hander Summer Mulford stopped the storm. After a shaky second frame in which the Lions put two more runners in scoring position, the lanky hurler settled in and faced the minimum over the next four innings.
Meanwhile, LHS lefty Dequesne Sprow had the mirror effect. After a perfect start through three frames, she suddenly lost command of the strike zone in the middle innings. Two walks played a role in Free State's lone score in the fourth, and another pair of free passes in the fifth gave way to Aleese Kopf's two-run double that plated the eventual game-winning run.
The blast to right-center was the Firebirds' second - and final - safety of the opening game.
"It was perfect timing," said Free State catcher Allie Hock, who was waiting on deck when Kopf delivered. "It was a great hit, and everything came at the right time."
In addition to wrapping up a victory in the opener, it also landed a knockout punch that extended into the early moments of Game Two.
The first-inning bobbles shifted to the Lions, and Free State took advantage with two quick runs. Conventional offense led to three more runs at Sprow's expense over the next two frames.
The Firebirds had control, and LHS had a growing sense of frustration.
"I don't understand how that happens when you're playing your cross-town rival," LHS coach Reenie Stogsdill said about the second-game doldrums. "I don't think my kids stepped up to the challenge today, and that's disappointing."
Sophomore righty Catherine Smith earned the complete-game victory in the nightcap, dodging occasional trouble that included a one-out, bases-loaded threat in the sixth on which the Lions failed to capitalize.
As a result, Free State has momentum and confidence heading into Thursday's doubleheader at home against Shawnee Mission South, while LHS must regroup before heading to Overland Park the same afternoon for a twinbill against Shawnee Mission North.
"Everybody's going to regionals, so it doesn't matter. And if we win two, we go to state," said Stogsdill, seeking positive spin. "At this point, we just need to improve every single game, and when we go to regionals, see what happens."
2005-06 Journal-World Cup
2005-06 Journal-World Cup
Standings
LHS: 10
Free State: 17
LHS varsity wins: 10
Free State varsity wins: 17
Note: The girls track and field teams recorded a tie during the Sunflower League meet.
Copyright 2018 The Lawrence Journal-World. All rights reserved. This material may not be published, broadcast, rewritten or redistributed. We strive to uphold our values for every story published.