With the Sunflower League meet looming this weekend, the Free State High girls swimming team easily could have looked past Blue Valley.
Add in the fact the match occurred Monday, a day Free State statistically has done poorer than other days this spring, and it had all the makings to be a disastrous afternoon for the Firebirds.
That was not the case, however, as Free State won 10 of 12 events to steamroll past the Tigers, 182.50 to 112.50.
"It's always hard to have meets on Mondays, and they are all focused on league," Free State coach Jama Crady said. "It was a good way for the seniors to go out. Winning 10 out of 12 is a good day."
The meet was the last home meet for Free State's seniors, but with the busy schedules that go with finishing out a senior year, some girls didn't even realize it.
"I actually didn't even know it was our last home meet until somebody told me today," said Becca Glass, who was part of four first-place finishes. "It's sad, but it's good because it means that state is almost here."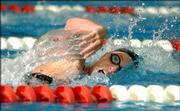 Glass teamed with Kelsi Mishler, Sarah Clark, and Ashley Robinson to win the 200- yard medley relay and the 200 and 400 freestyle relays. She also won the 500 free, finishing 30 seconds ahead of the second-place finisher.
Robinson also won the 100 butterfly, Mishler won the 100 freestyle and Clark won the 200 freestyle. In all, seven of the 11 swimming events were won by one of those four girls.
"I was really proud of the team because I know that we are all really tired but we did really well and the effort was good," Clark said. "I did OK. I could have done better but I was pretty tired."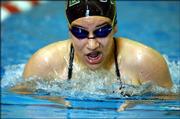 The league meet will take place Friday and Saturday at Lawrence High. Crady does not know what to expect because the Firebirds have not faced most of the teams yet this spring.
"I have no idea," Crady said of how this weekend will play out. "I'm expecting it to be very fast. Our league has a lot of really good swimmers. We tend to have one of the fastest leagues in the state because the same top finishers in league will be the same top finishers at state. It's going to be a good indication of what everyone else has."
Copyright 2018 The Lawrence Journal-World. All rights reserved. This material may not be published, broadcast, rewritten or redistributed. We strive to uphold our values for every story published.