George Mason coach Jim Larranaga and Florida's Billy Donovan, his counterpart on the other bench in Saturday's first Final Four matchup in the RCA Dome, both played college basketball at Providence College.
And that's about all they have in common.
Donovan was a household name who shot Rick Pitino's Friars into the Final Four, and he quickly matched his playing reputation as a young, hotshot coach of the powerhouse Florida Gators.
Larranaga, 56, had quite a career for Providence, too, finishing in 1971 as the fifth-leading scorer in school history. Yet, until this, his ninth season at George Mason, Larranaga never hit the national spotlight.
Donovan, 41, is in his 10th year as head coach of Florida and was a Final Four veteran before arriving at the school. He not only played for Pitino in the Final Four, he was an assistant to him at Kentucky in the Final Four and also coached the Gators to college basketball's biggest stage in 2000.
Donovan has a full head of hair and comes across as slick as the greased-back hairstyle he used to prefer. Larranaga, his hairline receded back, back, back, nearly gone, comes across as your next-door neighbor everybody loves to jolly with while he takes a break from mowing his lawn.
Larranaga is taking a looser approach with his team than Donovan is with his.
Of the four teams, Larranaga's was the only one to open practice to the media Thursday, and coach Larranaga soaked it in, working out his team, then regaling the writers with stories.
Is this team nervous?

"The whole idea is to stay upbeat, positive, totally committed to what we want to do and what we want to accomplish, but just to do it in a relaxed atmosphere," Larranaga said. "It's not to feel like, 'Oh my goodness, we're here now at the Final Four."'
Donovan's team comes in this time as a favorite, listed at 2-to-1 in Las Vegas, to bring the first basketball title back to Gainesville.
The Gators may be favorites with the oddsmakers, but probably not in the hearts of most casual observers.
Donovan is in touch with that.
"It's an inspiring thing to see a George Mason out there doing it, that playing together as a team can accomplish great feats," the coach said. "That's a positive thing that they can impact people's lives."
In contrast to the George Mason experience, the Gators were all business Thursday. They practiced at home, boarded a charter flight, bused to their hotel and were quickly shuffled up to their rooms without interviews.
The other Final Four matchup features UCLA's Ben Howland-coached Bruins against LSU's John Brady-coached Tigers. Both coaches also elected to practice behind closed doors Thursday.
Howland, 49, played at Weber State, where he twice was named the team's defensive MVP, fitting considering defense always has been the primary strength of his teams at Northern Arizona, Pittsburgh and UCLA.
In his third season as head coach of the Bruins, Howland already has brought the Big East-style of rugged defense to the extent UCLA can be tough to watch because its opponent routinely plays such ugly basketball.
Brady, 51, is in his ninth season at LSU. He played at small Belhaven College in Jackson, Miss.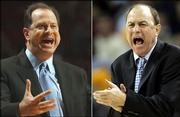 Led by gregarious and gigantic sophomore center Glen "Big Baby" Davis, the Tigers have made a surprising run, playing for something bigger than themselves in this, the first season after Hurricane Katrina tore through Louisiana.
Their opponent, UCLA, also has a heartwarming tale to tell. Sure, the Bruins are the epitome of a powerhouse, seeking their 12th overall title. But they've only won one since John Wooden left Westwood three decades ago. Expectations at Pauley Pavilion are always high, sometimes unbearably so, even when the talent level doesn't match.
"At UCLA, no other banners but national championships go up," Bruins point guard Jordan Farmar said after they beat Memphis to advance. "We haven't really done anything in the eyes of UCLA and UCLA fans."
But while UCLA fans are cheering for their guys, most of America loves an underdog.
Nobody plays that part better this week than George Mason, that inspirational 11th seed from the commuter college outside of Washington.
"Never stop believing. Never stop believing," guard Tony Skinn said after practice, asked what the Patriots did to make it this far. "We're doing it. And I'm sure any other team that works just as hard could do it too someday."
John Brady
Ninth season at LSU (140-102)
Birth date: Sept. 17, 1954
Age: 51
Hometown: McComb, Miss.
High school: McComb High
College: BS, Belhaven College, 1976; master's, Mississippi State, 1977
Ben Howland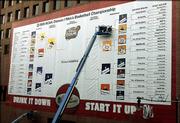 Third season at UCLA (60-34)
Birth date: May 28, 1957
Age: 48
Hometown: Lebanon, Ore.
High school: Cerritos (Calif.) High
College: BA, Weber State, 1979; masters, Gonzaga, 1981
Billy Donovan
Tenth season at Florida (248-106)
Birth date: May 30, 1965
Age: 41
Hometown: Rockville Centre, N.Y.
High school: St. Agnes High
College: Providence, 1987
Jim Larranaga
Ninth season at George Mason (166-104)
Birth date: Oct. 2, 1949
Age: 56
Hometown: New York
High school: Archbishop Molloy
College: BA, Providence, 1971
Copyright 2018 The Lawrence Journal-World. All rights reserved. This material may not be published, broadcast, rewritten or redistributed. We strive to uphold our values for every story published.