The bad news has gotten worse for those hoping to wed soon in Danforth Chapel.
The tiny church on the Kansas University campus was damaged by the March 12 microburst storm that did an estimated $6 million damage at KU. Officials thought the chapel might be back in service soon, but now it has been determined the building won't be ready until Aug. 1 or later.
"How many brides have been set loose on Lawrence now?" asked Lisa King, one among the many who had to scramble to find a new location for her big day.
The storm tore off most of the chapel's roof tiles. The building will be closed until permanent repairs are complete.
About 50 weddings planned for the peak wedding season have been displaced.
"There have been a lot of crying brides and upset mothers of the brides," said Becky Dunavin, whose job it is to deliver the bad news to the families. "We can't even guarantee reservations in August. We'll be sending out a letter to let people know renovations are going to be made. We just don't know when those (repairs) are going to be done."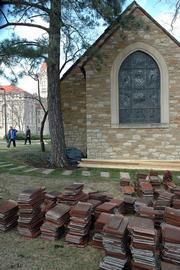 The small chapel, which holds up to 90 people, is the site of about 100 weddings a year and another 250 events, such as christenings, memorial services and meetings.
The quaint setting and inexpensive rental charge - $75 for the general public or $35 for KU graduates - have made it a popular wedding locale. The fees cover administrative costs and go to a fund for repairs to the chapel, Dunavin said.
The chapel's storm repairs are expected to cost about $40,000. KU Endowment Association started a storm recovery fund at www.kuendowment.org to collect private donations, and four donors so far have sent money specifically for Danforth. The Endowment Association does feasibility studies before embarking on major fundraising campaigns and is in the process of such a study for Danforth, Endowment Association development editor Jennifer Humphrey said.
The closure couldn't come at a tougher time. April, May and June are big wedding months, said Dunavin, senior administrative assistant with KU's Student Involvement and Leadership Center.
It was bad timing for Natalie Schmidt of Lawrence. The bride-to-be just had the invitations for her June 3 wedding printed when she learned she'd have to start again.
"I scrambled around to cancel the printing on the invites, but they were already finished," she said.
A KU graduate, Schmidt and her fiance, Jeff Konkel, said they tried to keep the ceremony at KU, scouting Allen Fieldhouse and the Kansas Union. But the fieldhouse isn't open for weddings and the union just didn't have the right atmosphere.
Schmidt instead found the Osborne Chapel at Baker University.
"It's just as beautiful," she said. "The only bad thing is it's not on the KU campus."
King, who is planning a June 10 wedding to fiance Thorsten Huth, said she learned of the change in plans while on spring break in Utah. All their wedding details - the dress, the flowers - were chosen with Danforth in mind.
"You have a vision in your head of what it's going to look like," she said. But "in the end, if we get married, that is the point at the end of day."
She also moved her wedding to Osborne Chapel, which has been scheduled for six weddings previously set for Danforth.
"Our telephone has rung quite a bit the last few days," said the Rev. Ira DeSpain, Baker's campus minister. "If the time and so forth is available, we're more than happy to book the weddings."
Copyright 2018 The Lawrence Journal-World. All rights reserved. This material may not be published, broadcast, rewritten or redistributed. We strive to uphold our values for every story published.