Considering her arm was in a cast from shoulder to wrist last year, 8-year-old Natalie Rainbolt didn't know how her 2005-2006 gymnastics season was going to go.
While getting back into her practice routine and using her arm once again proved challenging, Rainbolt's confidence, discipline, desire and drive to succeed propelled her to the medal stand throughout the season - but was capped off with a state title on the beam on March 11.
"I felt really proud that my hard work paid off," Rainbolt said.
Rainbolt didn't let the two pins in her arm and the bulky cast keep her away from the gym last year. The injury, which occured not at practice or during competition, but at a sleepover at the gym, when Debi Rainbolt, Natalie's mother, said she shouldn't have been on the bars that late at night didn't keep Natalie away from the sport she loves. Despite not being able to participate in normal practice activities and apparatus exercises she took to strength training.
"It was scary not knowing how she would come out of the injury," Debi said. "Her break was bad because it was right at the growth zone. While she had to sit out for four months she only missed one week of being in the gym. She wanted to be with the team and didn't complain. I was proud of her hard work."
Rainbolt was a bit tentative at the start of the season but quickly increased her confidence after the first few practices.
"At first I held back a bit, but my coaches spotted me during practice a lot and eventually I got more comfortable," Rainbolt said.
Lawrence Gymnastics Academy coach Tina Rosenthal said Natalie never missed a practice.
"(Natalie) brings 100-percent hard work to the table every time she is in the gym," Rosenthal said. "She is a focused athlete and applies corrections well to her gymnastics."
Rainbolt has participated in gymnastics since she was 18 months old and has been with Lawrence Gymnastics Academy for most of those seven years.
"I noticed when she was young she would hang off the drawers in the kitchen," Debi said. "She had a small frame and a natural ability."
The beam, labeled one of the most difficult exercise by many in the sport, is Natalie's favorite event and one she has seen a lot of success on this past season. Beam has always been her favorite apparatus because it provides the greatest challenge.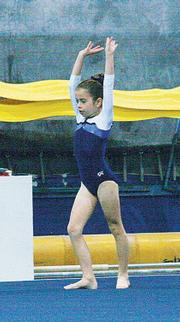 "Natalie is such a tiny gymnast and dealing with an event that is only four inches wide and four and a half feet off the ground can be overwhelming," Rosenthal said. "If you are only one inch off on a landing it can mean taking a fall from the beam. Natalie has perfected the ability to perform well under pressure by learning to stay focused."
"When I am on the beam, I think of one skill at a time," Natalie said. "Shoulders must stay in line with the beam because if one part of the body is off you'll fall."
With a grandpa-made beam in the basement of her house Natalie said she devotes some of her spare time to practicing even when she is not at the gym.
Debi, a former gymnast and former gymnastics coach, saw the natural gymnast in Natalie at a young age, but never pushed her into the sport.
"At age 5 Natalie was the one who decided she wanted to take time off," Rainbolt said. "She became involved in tumbling and trampoline for a year before deciding that she wanted to go back to gymnastics. A few months into first grade she had to choose between the two and gymnastics just stuck."
Natalie has stayed with gymnastics for the past three years, this year competing in Level 5. Rainbolt practices Monday and Thursday for three hours in the evening after dinner and four hours on Saturday when she is not traveling to competitions. Her 10 hours a week is a lot for an eight-year-old, but Debi keeps a close eye on Natalie to make sure she is staying balanced.
"Balance is the key," Debi said, "Challenge now and into the future is keeping an eye and constantly monitoring her to maintain that delicate balance."
As Natalie continues to advance into the higher levels her practice time will increase, but Debi stresses that school work will remain a top priority and she will make sure that if Natalie no longer is enjoying the sport she has the option of cutting back or stopping.
Gymnastics is largely an individual sport, which puts added pressure on a gymnast during a routine.
"There is no one else to blame but yourself," Natalie said.
But there is a team aspect to the sport, which Natalie said everyone tries hard to contribute their own personal points in hopes of winning a team trophy.
"I remember a meet earlier this year where Natalie won four or five medals and one of her teammates didn't win one," Debi said. "After the awards ceremony Natalie came up to me and quietly said she gave one of her medals to her teammate. It made me very proud. She is a really good teammate."
Now that the season is over Natalie will continue to train. The team will attend camp, like they do every off season, this year in Colorado. She will also be evaluated by her coaches to see if she will move up a level next year, but Natalie has her sights set beyond advancing to Level 6 next year.
"I want to go to the Olympics one day," she said.
Natalie looks up to Olympian Carly Patterson and knows her goal will require hours of practice and dedication, but she is prepared for the challenges she would face along the way to her Olympic dream.
Rainbolt continues to have her arm monitored by doctors, but more importantly Rainbolt's parents and coaches continue to monitor her progress as a gymnast, so hopefully one day young girls can look up to Natalie for her Olympic accomplishments.
"It is very rare that you will find an 8-year-old who can both think and compete like that of a 16-year-old," Rosenthal said. "She is a truly talented and gifted gymnast. Natalie will go a long way in the sport if she sticks with it."
Copyright 2018 The Lawrence Journal-World. All rights reserved. This material may not be published, broadcast, rewritten or redistributed. We strive to uphold our values for every story published.