The Level 6 Lawrence Gymnastics academy girls gymnastics team finished 5th at the state meet on March 11. Level 6 had seven gymnasts qualify for the state competition and their individual finishes are below.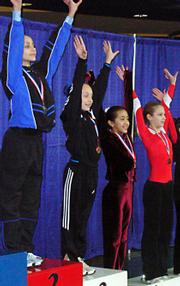 Maria Carvajal finished first in all events in the 15-year-old age group.
Rachel Rasmussen finished 9th overall in the 13-14-year-old age group. She placed 7th on the vault, 9th on the bars, and 6th on the floor.
Abbey Bays placed 6th overall in the 12-year-old age group. She finished 3rd on the vault, 5th on the bars, and 7th on the floor.
Annie Soderberg finished 5th overall in the 10-year old age group and Rosie Schaumburg finished 3rd. Annie placed 4th on bars, 1st on beam and 2nd on floor.
Rosie finished 4th on vault, 3rd on bars, 2nd on beam and 5th on floor. Also in the 10-year old group, Brooke Leslie placed 5th on vault and 9th on floor.
Stevie Ray Wunder also particpated in State.
Copyright 2018 The Lawrence Journal-World. All rights reserved. This material may not be published, broadcast, rewritten or redistributed. We strive to uphold our values for every story published.