Payton Covert only started wrestling just recently, but with just a few meets under her belt Covert has body slammed the competition in Kansas youth wrestling leagues throughout the state. With little experience and weighing in at less than 69 pounds, Covert took home the U.S. Girls Wrestling Association Kansas State Champion title on Feb. 26 in the 12-and-under division.
But what is even more remarkable than early success, is that Covert is a girl. She is just one of a handful of young athletes who are breaking through in what has typically been reserved as a man's world.
Enter the library-turned-makeshift-gym at Centennial Elementary School on Tuesday and Thursday nights and you'll catch a glimpse of this world. Young boys run around the halls, sweat dripping, anxiously awaiting the chance to tackle teammates. Yet inside the library their female opponents wait patiently, gathering every bit of energy to carry with them to the mats. Then the whistle blows and all at once there is a blur of bodies on the floor as both girls and boys wrestle together, sweat and all.
Covert was one of the first girls to enter this world, by way of the Lawrence Coyotes wrestling league. Ron Covert, Payton's father and one of the Coyotes' wrestling coaches, said the female wrestling trend is a fairly new phenomenon for the league that has been around since 1999.
"The league has always been open to anyone who wants to wrestle, including girls, but just within the past year girls have started to join in," Covert said.
Payton herself started wrestling on a whim, but led the trend for young female athletes in the Coyotes. After she started, other girls followed suit and joined the league.
"I started wrestling because my dad kept telling me I should," Payton said. "I said I would give it a try, but I ended up liking it and decided to keep going."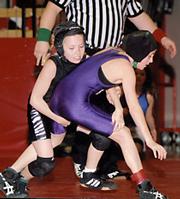 Wrestling seemed to come naturally for Payton, but it still came as somewhat of a surprise when she secured the U. S. Girls Wrestling Association State Champion title in February after wrestling in only a few meets.
Payton won the title after wrestling another girl at the meet in McPherson. The meet was held in the folkstyle wrestling technique, which is the style most widely used by American high school and college wrestlers. The Coyotes league also wrestles in freestyle and Greco-Roman, which utilizes upper body strength through moves.
With girls wrestling, these styles must be adapted to accommodate them. To better serve the needs and expertise of young female athletes, the Coyotes wrestlers rely on the experience and mentoring advice of Lawrence High School wrestler Emma Mercer. Mercer has made waves herself as a female wrestler and even holds a ranking with the U.S. Girls Wrestling Association.
Mercer stands on the sidelines at the Coyotes practices and meets offering up quiet and wise words of advice for both girl and boy wrestlers alike. Yet she acknowledges that the sport must be tailored to accommodate female participation.
"Girls have a slight disadvantage when they wrestle with boys, because boys have a lot more upper body strength at a young age than girls do," Mercer said. "We have to work to do different things that will help the girls out."
Payton said one of the biggest things she was working on with Mercer was developing more lower body strength to better dominate boys in her matches.
The physical hurdles aren't the only problem that girl wrestlers have to face. Many of the Coyotes female wrestlers said they sometimes encounter slight opposition from those who don't understand their participation in the typically male dominated sport.
"Sometimes people think it is weird that I am a girl and I wrestle with boys," Payton said. "But I like wrestling, so I just keep going and try to do my best."
Female Coyotes wrestlers said the invaluable support they receive from their teammates, families, coaches and role models like Mercer, helps to keep them focused and winning against the boys. Payton's coaches even keep a wallet sized photo of her near at meets to remind her male opponents that they just got beat by a girl.
Copyright 2018 The Lawrence Journal-World. All rights reserved. This material may not be published, broadcast, rewritten or redistributed. We strive to uphold our values for every story published.