Swoosh. Swish. Shwap. Whatever sounds the net makes to you as a basketball glides through the nylon, Bob Drake guarantees he can make it happen all the time. If you're willing to work, that is.
Drake's resume speaks for itself. The highest profile names are JaRon and Kareem Rush. You'd be hard-pressed to find anyone in the immediate area who hasn't heard of the two Kansas City basketball standouts. Drake has also taught numerous high school All-Americans and standouts from Kansas and Missouri, such as Jackie Stiles, a SW Missouri standout and WNBA Rookie of the Year, Kate McKewan, former USA Today Player of the Year in Kansas, and many others. But he does much more than break down someone's shot.
"I want to give the kids lessons in life, too," Drake said. "So part of my program involves teaching them the skills they need to be a better person."
But don't come to Drake expecting to go through the motions. If you can't dribble with your left hand, you'd better wait until you can. It may be a shooting lesson, but dribbling comes first.
"Once you become known as a shooter the other team puts its best defender on you," Drake said. "If you can't put the ball on the floor and create something off the dribble, your shot is useless."
Drake certainly knows his stuff and has the experience to back it up. After playing at Hutchinson Community College and Long Beach State University, Drake had coaching stints at St. Francis Seminary school, Fort Hays State and Victoria High School, which he took to the state tournament.
Then in 1988, while trying to market a product that is attached to the hoop to force kids to put more arch on their shot, Kansas University basketball coach Larry Brown gave him a break. He let him use it during a camp. Next, Drake ran the shooting station at a camp run by current Wichita State coach Mark Turgeon. Young camper Kate McKewan's mother asked Drake what he would charge for private lessons and his new career began.
He developed a pay-as-you-go system since he knew some young kids might not be ready for a complete breakdown of their shooting technique.
"Everyone has developed a muscle pattern and that can be very difficult to break," Drake said. "But I don't have a magic wand and there are no short cuts, the kids have to do their reps."
Indeed, Drake likens his lessons to a class that one might take in school. He assigns homework and implores his students to study. If your teacher is going to give you all the answers about how to shoot a basketball, why wouldn't you want to study? That's the question Drake asks of his pupils. How do you get good grades on a test? You study. Drake feels shooting is the same thing only the gym is your classroom. And if they're not up to the task, they don't have to come back for the next lesson.
If they come back, that's when Drake pulls out all the stops. He uses mirrors so that his students can watch their technique, see what they're doing wrong or right and, if needed, fix something. He also brings in pictures of players whom he believes have the most technically sound shooting technique. Steve Alford, the current basketball coach at the University of Iowa, Fred Hoiberg, former Iowa State star and current NBA player, and Kansas University's own Jeremy Case are among the photos Drake shows off.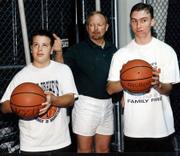 "I'm a stickler for detail," Drake said. "I break down someone's shot completely and work on every placement, motion and movement, and I do it the same for people at any age and at any skill level."
As he breaks down a shot, Drake looks at where you catch the ball. He believes you should catch at eye level, not chest level, which means there will be less wasted motion when putting up a shot. Also, contrary to what some people learn, Drake teaches to not pull your elbow in to the ball. Your arms should be natural and you should be able to see both eyes in the mirror. The jump shot should be technically the same as jumping for a rebound.
Another important element to Drake's perfect shot is keeping the head level. He maintains that as children we are always looking up at the hoop and this simple positioning throws the shoulders back and can completely alter your shot. One college player Drake watches has all these elements in place. To the chagrin of some Kansas fans, that player is Duke's J.J. Redick.
"Redick obviously learned how to shoot over the years, there's really nothing wrong with his shot," Drake said. "In fact, it looks like he learned from me."
As Drake continues to rebuild his client base - he took a few years off to start an advertising business - and search for gyms to use, his mantra for good shooters remains the same.
"Always keep positive," he said. "The basket is your friend. It will tell you everything right or wrong about your shot. Whether you're hitting or not, it's nearly all mental. Just keep shooting."
Copyright 2018 The Lawrence Journal-World. All rights reserved. This material may not be published, broadcast, rewritten or redistributed. We strive to uphold our values for every story published.