There's a new set of rules for Lawrence developers to play by.
After five years of haggling and hand-wringing, city commissioners Tuesday night unanimously approved the city's Development Code - a 300-page document that will guide how everything from new retail projects to neighborhoods can develop in the city for decades to come.
"I'm glad to finally have this day," City Commissioner Mike Rundle said of the 5-0 vote. "My excitement was more at the beginning of the project. I think I lost my excitement when it took so long to get this accomplished. But I think this will help us work to make our community a better community."
The code replaces the city's current Zoning Code, which is 40 years old and frequently was cited by planners as constantly in need of updating because the size and types of developments had changed greatly since it was adopted in 1966. For example, a 1966 code doesn't provide much guidance on which zoning category a wireless telephone store should be placed in, because planners in the 1960s had little clue what a cellular telephone was.
The new code - which won't take effect until July 1 - produces a multitude of changes in how developers will do business.
Among other things, the code will:
¢ provide new options for homebuilders to build on smaller lots in an effort to promote affordability.
¢ require greater pedestrian access in new areas of town.
¢ ensure that neighborhood associations are contacted by developers before certain projects begin.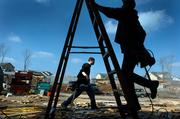 ¢ create more buffering requirements between residential and nonresidential pieces of property.
¢ streamline the process, in some cases, by giving city staff members more ability to give administrative approval to project details.
Positive response
The code on Tuesday evening was met largely with a positive response from both neighborhood representatives and members of the development community.
"I was here tonight to be part of what really was a historic event for the city," said Mark Andersen, a Lawrence attorney who represents several developers.
Andersen said he anticipated several developers would use the new code to build neighborhoods that feature smaller, more urban-style lots and begin incorporating more walking trails and other pedestrian access points in their developments.
"There will be new areas of town that have a different feel," Andersen said.
Gwen Klingenberg, president of the Lawrence Association of Neighborhoods, said she liked the new code because it gave the city a much better set of tools to accomplish the broader goals that have been set out in Horizon 2020. And she said it should make for a more open and informed process.
"You'll have a lot better neighborhood participation in development matters with this code," Klingenberg said.
Nonconforming concerns
Commissioners had attempted to approve the code last year, but held off after members of the development community said it was replete with errors and contradictions.
There was particular concern that hundreds of single-family homes and businesses with particular types of zoning would become "nonconforming uses" under the new code. The nonconforming use label would make it difficult for those property owners to rebuild their homes or businesses if they ever were destroyed.
But commissioners hired a private Kansas City attorney to help staff members review the code and make necessary changes. Those changes eliminated most of the cases where properties would become nonconforming uses.
The new code, though, has left a smaller number of property owners still facing the nonconforming issue or wondering whether planned projects are still feasible under the new code.
City leaders vowed Tuesday to work to make the transition process to the new code as smooth as possible.
"There will probably be glitches along the way, but we will work through them because we have a lot of people who have their heart and souls into this," City Commissioner Mike Amyx said.
Commissioners will begin making changes to the new code almost immediately. Planning commissioners at their April 19 meeting are scheduled to consider approximately 60 changes to the code, most of them technical clarifications.
But there also will be some major changes considered. Andersen said the development community would watch closely any changes made to the retail section of the code. Planning commissioners are considering a plan that would not allow new retail projects to be approved if a city study showed that the overall retail vacancy rate in the community is above 8 percent.
Commission delays Salvation Army decision
City commissioners Tuesday night delayed a decision on whether a proposed Salvation Army homeless shelter should have to go through a new approval process.
Instead, commissioners agreed to give City Commissioner Mike Amyx - who is expected to be selected by fellow commissioners next week to begin a one-year term as mayor - a chance to meet with both the Salvation Army and neighborhood leaders.
Amyx said he wanted to see if there was a way for the two sides to find a plan they could agree upon. Amyx said he expected the issue to come back to the commission in about 30 days.
Condemnations to begin for Kasold Drive project
Commissioners agreed to move ahead with condemnation proceedings to obtain temporary construction easements from property owners along a section of Kasold Drive that is scheduled to be rebuilt.
Commissioners agreed to move forward with the proceedings despite objections from Price Banks, a Lawrence attorney who also lives along the section of Kasold Drive that stretches from Bob Billings Parkway to 22nd Street.
Commissioners, though, were alerted that bids for the road construction project have come in significantly higher than expected. Staff members are expected to make a recommendation next week on whether the city should proceed with the project as planned or look for ways to cut costs.
Retail development near trafficway OK'd
A new commercial development at the southeast corner of Sixth Street and the South Lawrence Trafficway received unanimous approval from city commissioners.
A preliminary development plan for 198,000 square feet of retail space on the corner was approved. Brian Kubota, a developer leading the project, said the project's first phase likely would include a bank, a drug store and convenience store to serve the growing number of residents who live west of Wakarusa Drive.
Construction could begin next year, but the entire project likely won't be completed for at least eight years, Kubota said.
Commissioners approved the project after a long discussion about a condition the planning commission placed on the project. It required the city to complete a retail database that would determine whether the city had an oversupply or undersupply of certain types of retail businesses before the project could be built.
City commissioners said if the city database was done by the time final plans were submitted for the project, it could be used to determine what type of retail uses would be allowed in the project. But if the city database is not complete by then, the Planning Commission cannot delay the project.
KU gets approval for new park-and-ride lot
Commissioners unanimously gave the necessary approval for Kansas University officials to move ahead on buying five buses to operate a new park-and-ride parking lot on west campus.
The 1,500-space lot is expected to open by Aug. 1, and help relieve parking congestion on the main campus.
Copyright 2018 The Lawrence Journal-World. All rights reserved. This material may not be published, broadcast, rewritten or redistributed. We strive to uphold our values for every story published.