Before Stephen Johnson made a living at art, he made a point of living at the Lawrence Arts Center.
Not literally, of course, but he spent many hours there while growing up in Lawrence. Back then, the center conducted business from the Carnegie building at Ninth and Vermont streets. Johnson took life drawing classes there in high school, returned for training in watercolors during his time at Kansas University and later taught painting there before heading off to New York to live the artist's life.
"I was always looking for other ways of learning how to do things," he says.
Now that he's made a name for himself, Johnson makes a habit of giving back to the organization that helped feed his youthful creativity by donating a piece to the Lawrence Art Auction each year. This time around, he's the featured artist.
"Basically it's a way that we honor artists who have been involved with the arts center for many years and who are prominent artists," gallery director Rick Mitchell says of the distinction. "He's taken classes here, he's taught classes here, he's been a contributor to the art auction ... he comes to events here, his children do things here. He and actually his whole family have been involved at the arts center for many, many years."
Johnson's drawing "Hoops Players" will be sold during the live auction on April 8 at the arts center, 940 N.H.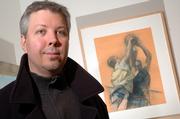 More than 750 people are expected to attend the annual fundraiser for the center's gallery program to bid on 236 works donated by nearly 240 artists in both silent and live auctions.
Jack of all trades
Johnson struggled with what to donate for this year's event. That may be because he doesn't limit himself to a single medium or style.
He has done commercial illustrations for national magazines, created award-winning artwork for children's books, designed a glass mosaic mural for a New York City subway station, adorned canvases with nude figure paintings and earned commissions to design abstract sculptures for the Lied Center and the city of Lawrence.
Johnson finally settled on "Hoops Players," and the piece has an interesting story. Originally created for the cover of the 1997 book "Hoops," which Johnson illustrated for author Robert Burleigh, the drawing's orange background didn't suit Johnson's final vision for the book. So he redid the drawing on a red background but kept the original.
"This one has some really nice marks, just the way the figures came together," he says.
Bidder's delight
What: Lawrence Art Auction Preview party: 5 p.m.-8 p.m. today Auction night: Party begins at 6 p.m.; live auction starts at 7:45 p.m. Preview exhibition: Through April 8; silent auction bids can be placed now through 7:30 p.m. April 8 Where: Lawrence Arts Center, 940 N.H. Tickets: $25 in advance; $30 at the door
Perks for artists
Johnson is aware that some Lawrence artists object to the idea of art auctions because of the possibility that work could be sold for less than its retail price. But he continues to donate because he sees value in what the center offers area artists.
"They're really the outlet for continuing education in the arts," he says. "And the auction also provides some degree of exposure. One gets into collections that way, which is nice."
Johnson himself began collecting work by a Lawrence landscape artist after spotting one of her paintings at the auction in the 1990s.
"It was somebody named Lisa Grossman," Johnson recalls, chuckling because Grossman has since become quite well-known. "I wasn't able to attend the auction, but I had my sister bid on it for me, and I got the painting. Then I started trying to figure out who she was.
Photo Gallery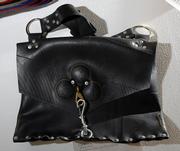 26th annual Lawrence Art Auction
"I've gotten to know her and love her work, and I ended up buying a piece from her gallery in Manhattan."
Mitchell says the arts center encourages similar relationships by hooking up auction artists with patrons who want to know more about their work. The auction catalog provides contact information for either the artists or the gallery that represents them.
Other perks for donating artists include a free Web page for a year, a free membership to the arts center, two auction tickets, a certificate for one arts center class and the option to receive 25 percent of the selling price back to cover costs.
"The auction continues to grow," Mitchell says. "We know that means we're selling lots of work, and we know that we owe something back for that."
Auction facts
¢ Last year's auction drew about 750 people (up from 500 people the previous year) and generated nearly $95,000. Proceeds fund about 50 percent of the annual budget for the Lawrence Arts Center's gallery program. ¢ Retail value of works in 2006 is approximately $110,000 - up from $81,697 in 2005 and $70,000 in 2004. ¢ This year, a "buy out" option is available in the silent auction. Visitors can buy a work at any time until 3 p.m. April 8 by paying 200 percent of the retail price. Source: Rick Mitchell, Lawrence Arts Center
'Incredible talent'
Unlike Johnson, longtime auction-goer Maria Martin says her taste skews too eclectic to buy works by the same artist year after year, but she hasn't missed an auction since she and her husband, Don, moved to Lawrence in 1984.
She comes for nostalgia - she grew up in a household that smelled of paint from her father's studio - and to champion the city of the arts.
"There's just incredible talent out there, just right in our own community," says Martin, owner of Southwest and More, 727 Mass. "I think people should support our artists and the art that we have within Lawrence."
Nancy Parker feels the same way. She and her husband, John, have frequented the gala off and on - mostly on - for 15 years. The Lawrence couple always buy at least one piece.
"I love the art auction," she says. "You can get great art and support local artists."
Meet this year's featured artist
Name: Stephen Johnson Age: 41 Born: Madison, Wisc., in 1964; raised in Lawrence; worked in New York for 13 years after college and returned to Lawrence in 2000 Education: Bachelor of Fine Arts in painting and illustration from Kansas University, 1987; studied at The Universite de Bordeaux and The Conservatoire de Beaux-Arts in France Teaching experience: Pratt Institute, N.Y.; Syracuse University, N.Y.; Fashion Institute of Technology, N.Y.; and the Lawrence Arts Center Books: Has illustrated 17 children's books; "Alphabet City" was named a Caldecott Honor book in 1996 and won a New York Times Best Illustrated Book of the Year Award Notable commissions: "Freeform," a sculpture in honor of Lawrence's 150th anniversary, located at Sixth and Mass.; "Arrangement in Red, Blue and Gold," a wall sculpture in honor of the Lied Center's 10th anniversary; "Spirit of the Law," an oil painting to celebrate the KU law school's 125th anniversary; "DeKalb Improvisation," a 66-foot-long glass mosaic mural in the DeKalb Avenue Subway Station in Brooklyn, N.Y.; seven interactive robot sculptures, 12 original works of art and a rocket ship stepladder for Lawrence Memorial Hospital's pediatric wing
Copyright 2018 The Lawrence Journal-World. All rights reserved. This material may not be published, broadcast, rewritten or redistributed. We strive to uphold our values for every story published.