Beth Anne Mansur wants a guarantee.
She and other East Lawrence residents want to know for sure that a proposed Salvation Army homeless shelter near 19th Street and Haskell Avenue will truly rehabilitate the homeless rather than just providing them a place to hang out day after day.
"The Salvation Army has never put anything in writing for us to show what this really will be," Mansur said. "They are so vague."
City commissioners tonight will be asked to decide whether The Salvation Army project should be required to go through a new approval process that could put more specific restrictions on how the site could develop.
The $3.5 million project - planned for the west side of Haskell Avenue between Lynn and Homewood streets - originally received City Commission approval in 2004. But two years later construction hasn't yet begun on the project, and the center's site plan is set to expire in May.
Neighbors want the property to be rezoned from its current industrial zoning to a more neighborhood-friendly zoning category. If the rezoning takes place, the shelter project would have to receive a special use permit from the City Commission to move forward.
Salvation Army leaders strongly oppose that idea. Dick Zinn, an attorney and member of the Salvation Army's advisory board, said requiring a new City Commission vote on the project would wreak havoc with the organization's current fundraising drive.
"It would create a specter of uncertainty of whether the project is going to happen," Zinn said. "It would really be very harmful to our entire campaign."
Zinn wants the project to receive a new one-year site plan, which would give The Salvation Army time to complete its fundraising drive and begin construction in early 2007.
But neighbors said the new approval process was the only way they could be assured that The Salvation Army would follow through on plans to operate a shelter that focuses on serving families instead of being a traditional "soup kitchen" facility. Neighbors have said a traditional homeless shelter was not appropriate for their largely single-family neighborhood.
Salvation Army leaders have said they intended the new center to be significantly different from their current shelter at 10th and New Hampshire streets, which would close after the new center is completed. They've said it would have a larger focus on families and would not offer the traditional emergency shelter services.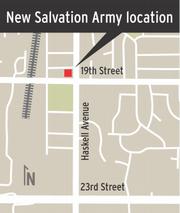 But Zinn on Monday said the shelter had to stop short of saying that it would never offer certain services at the site because the organization's mission was to meet the needs of the community's needy.
"To make the commitment that there won't be a feeding program in 2025, we can't do that," Zinn said. "If there is no other way to feed hungry people, we can't say we won't address the need."
That talk concerns neighbors.
"It sounds nice that they will do what is needed, but it also kind of sounds like they have it up their sleeves that this is really what they want to do," said James Grauerholz, a resident of the neighborhood.
Zinn, though, said people who believed The Salvation Army was being disingenuous were not giving credit to how the organization has conducted itself since it began operations in Lawrence in 1886.
"Anybody who knows The Salvation Army knows that it would not ever say one thing and intend to do something else," Zinn said. "That's not who we are."
Commissioners meet at 6:35 p.m. tonight at City Hall, Sixth and Massachusetts streets.
Copyright 2018 The Lawrence Journal-World. All rights reserved. This material may not be published, broadcast, rewritten or redistributed. We strive to uphold our values for every story published.