New York — With "American Idol" Fantasia Barrino singing "I Believe" and cheerleaders from Kentucky's Dunbar High leaping around the stage, it was clear when Lifetime made a sales pitch to advertisers last week that things are changing at the network for women.
There wasn't a "Golden Girl" in sight - or even a wrinkle on the faces of women speeding by in film clips.
Can Botox work on a TV network?
Lifetime is in the midst of a makeover, trying to shake off the rust and appeal to a younger audience. The grab-your-hankie movies are staying, but several reality series, a comedy about a dating service and a drama about a mindreading FBI agent are also on the way.
"I keep saying in my head, I wish I'd been here 10 years ago. There's so much potential on so many levels," said Susanne Daniels, the Lifetime entertainment president who is engineering many of the on-air changes.
Only four seasons ago, Lifetime was the top-rated basic-cable network with an average prime-time audience of 2.27 million people. USA, TBS and TNT have since rushed past Lifetime, which is averaging 1.64 million viewers this season, according to Nielsen Media Research. More important to youth-obsessed advertisers, the median age of Lifetime's prime-time audience has crept past 50, and viewership is down 15 percent this season among women aged 18 to 49.
The network hired former Cartoon Network executive Betty Cohen as its president last year, replacing Carole Black. Cohen then brought in Daniels, a former WB programmer.
The absence of an entertainment president for many months was apparent on the air, said Simon Applebaum, editor at large for CableWorld magazine. Until the debut of "Cheerleader Nation" earlier this month, Lifetime's schedule had only one original series ("Missing"). The drama "Strong Medicine" ended its six-year run on Super Bowl Sunday.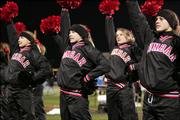 Lifetime's strength has long been its original movies, often lampooned as the TV equivalent of trashy beach novels. The emphasis will continue, with production being ramped up from under 60 to 80 movies a year, Daniels said. "Human Trafficking," which received much attention last year, is an example of how Lifetime is trying to broaden the franchise.
But Daniels also saw the need to bring on new series as quickly as possible.
"Cheerleader Nation," a 10-week reality series on a championship team from Lexington, proved highly relatable. Cheerleaders are icons; many people either were one, dated them or hated them. By also focusing on the cheerleaders' equally intense stage moms, the series has something women of different ages can identify with, Daniels said.
That's the whole idea for Lifetime: get younger but don't alienate the audience that is already there.
"Lovespring," the next new series due in June, is an improvisational comedy produced by Eric McCormack of "Will & Grace" focusing on the weirdos running a high-end dating service. "Angela's Eyes" starts in July, starring Abigail Spencer of "All My Children" as an FBI agent whose mindreading skills complicate her social life.
Lifetime is also developing reality series with James Carville and Mary Matalin running campaigns for high school student body president; about the work of a Hollywood pet agency; about reuniting old enemies; and having eligible women try to guess if they are being wooed by a gay, straight or married man.
"You name the genre," Daniels said, "I'm developing something in it."
Copyright 2017 The Associated Press. All rights reserved. This material may not be published, broadcast, rewritten or redistributed. We strive to uphold our values for every story published.