Russell Pleasant has some explaining to do.
Such is life when you're one of four out of 3 million contest entrants to pick all the teams in this year's Final Four: LSU, Florida, UCLA and ... George Mason?
George Mason?
Yep, he called it.
And how 'bout this: The software test engineer wasn't blindfolded, throwing darts or picking out of a hat when he made his selections and put the 11th-seeded Patriots, winners of zero NCAA Tournament games before this season, on the last line in the Washington bracket.
He insists there was a method to his March Madness.
Well, sort of.
"I got them confused with George Washington," Pleasant conceded Monday, after he'd been identified as one of the final four in an ESPN.com contest.
The 46-year-old, who lives in Bellevue, Neb., said he had watched George Washington in a couple of games earlier this season and liked what he saw. The Colonials, not the Patriots, were going to be his long-shot pick. Confusion reigned.
"I was filling in my bracket on the job and trying to do it pretty quick," he said. "When I got done, I said, 'Was that George Mason or George Washington?'"
Turns out, it was George Mason, the first 11th seed to make the Final Four since 1986.
George Mason, the Colonial Athletic Association commuter school in Fairfax, Va.
George Mason, the mid-major team that beat the big boys - Michigan State, North Carolina and Connecticut - to shock the college basketball world and show that, yes, there still is a place for the most unlikely of underdogs on the grandest stage in a sport that has become a multimillion-dollar business.
"I thought, for sure, some Cinderella team would be in it," Pleasant said. "So, why not them?"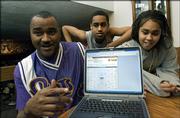 For the record, after he realized his George Mason "mistake," he filled another bracket out with George Washington making it all the way through the Atlanta Regional.
That one got crumpled up long ago.
The one with George Mason is worth framing. It is, almost literally, a one-in-a-million.
"To my wife, it seems like I'm always picking winners, so she said, 'Why don't you go pick a real bracket?"' Pleasant said.
So, he did.
A lifelong sports fan who loves Nebraska football and has always rooted for "the old teams" in basketball - Georgetown, UCLA and the like - Pleasant said he never figured he'd have a chance to win the thing.
In fact, after the first weekend of the tournament, he was tied "for something like 250,000th place."
But his Final Four teams kept advancing and the favorites kept bowing out - this is the first Final Four since 1980 that does not include a No. 1 seed.
On Saturday, fourth-seeded LSU and second-seeded UCLA punched their tickets.
On Sunday, third-seeded Florida won. And, of course, George Mason played top-seeded UConn.
"I wasn't sure George Mason could beat Connecticut," Pleasant said. "I was worried about that. But I figured everyone would have UConn in their pool, so I separated myself there."
According to statistics provided by ESPN, 1,854 of the 3 million brackets had George Mason making the Final Four.
Of those, 284 picked the Patriots to win the national title. Most of those brackets were presumably filled out by alumni, people whose favorite colors are the Patriots' green and yellow, or maybe American history buffs (George Mason was a key player in the establishment of the new nation, but refused to endorse the Constitution because, initially, it didn't include a Bill of Rights).
Pleasant was not, however, one of those 284.
His predicted champion is Florida and, because of that, this is where his great little underdog story ends.
With a $10,000 grand prize at stake in the ESPN pool and with only a scant 10-point lead against the three others who forecast their Final Fours perfectly, Pleasant will be rooting - heavily - for the Florida Gators on Saturday night.
Their opponent in the national semifinals: George Mason.
"I've always liked Florida," he said. "But now, I kind of wish I'd picked George Mason to go all the way."
Copyright 2018 The Associated Press. All rights reserved. This material may not be published, broadcast, rewritten or redistributed. We strive to uphold our values for every story published.