James Blunt is about to learn a little about Kansas.
Everything the British singer-songwriter, who plays a sold-out show Wednesday at Liberty Hall, knows about the state he learned from being in a stage production of "The Wizard of Oz."
"I guess I was about 9," he says. "I was a Munchkin farmer."
Blunt, who is on his first American tour, has learned a lot recently about the United States, fame and the music industry.
His first single, "You're Beautiful," spent five weeks at the top of the British charts last summer before being released in the United States. The single also hit No. 1 on the Billboard charts, making Blunt the first British artist since 1997 to have a top song here.
His debut album, "Back to Bedlam," was recorded after a four-year stint with the British Army, including a year as a captain in Kosovo. It was the second-best-selling record in the United States last week.
Blunt, 29, is calling from Cleveland, the ninth stop on a world tour that also includes Australia, Japan, Mexico and much of Europe.
Photo Gallery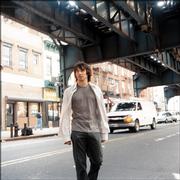 James Blunt
"The album's been out for a while in the UK," he says. "It's been quite fun coming to a place where the songs aren't known and the audience is new. It reminds me of the first time I played back at home, and it allows me to rediscover the songs."
Blunt's brand of pop is highlighted by his distinctive voice, which often climbs to high registers and does little to hide his British accent. One recent review said it sounded as if his underpants were on a bit too tight.
American audiences are most familiar with "You're Beautiful," which tells of locking eyes with a beautiful stranger on the subway. But Blunt says he's looking forward to fans moving beyond the first single. "Goodbye My Lover," the second single released from the album, is at 66 and climbing the Billboard charts.
"People are coming to me saying 'You're Beautiful' isn't their favorite song on the album," Blunt says. "'You're Beautiful' is about a two-second incident. There are many other songs which are much more meaningful and long-lasting and rewarding in that way.
Clips from audio interview with James Blunt
"And so I think they'll recognize it's just one song on an album of 10 songs. The album was also constructed to be heard as an album and not just focused on one particular song."
Blunt joins a handful of other UK acts - including Franz Ferdinand and Coldplay - that are enjoying success in the United States.
"I guess maybe we approach it the wrong way," he says of his countrymen coming to the United States. "Often, I think, we come out here from England or Britain and say we're coming here to break America or conquer the United States. And I think, quite understandably, Americans don't want to be broken. They don't want to be conquered, so (they say), 'Why don't you go home?'"
Blunt has recently been a focus of British tabloids. One, last weekend, reported he was having difficulty in his relationship with girlfriend Camilla Boler because of his hectic touring schedule. And many have written about a dispute with a former producer over royalties on Blunt's songs.
Past Event
with The Boy Least Likely To / Sierra Swan
When: Wednesday, March 29, 2006, 7:30 p.m.
Where: Liberty Hall Cinema, 644 Massachussets Street, Lawrence
Cost: $25
-->
-->
"I set out to be a musician," Blunt says. "I still do music, and that is what I do as a way of life. I never set out to be famous. I don't really enjoy the notion of celebrity. I think it's a confused and ugly subject, and so I don't really involve myself with tabloids, because it's like curtain twitching. I think private lives are private lives."
Blunt would prefer if the insights into his private life came from his lyrics.
"Most of these songs are written about personal experience," he says. "And it's kind of heartwarming because these people can see these songs applying to their lives as well."
Copyright 2018 The Lawrence Journal-World. All rights reserved. This material may not be published, broadcast, rewritten or redistributed. We strive to uphold our values for every story published.