Jupiter, Fla. — Only Jeremy Hermida knows what it feels like to step to the plate as a pinch-hitter in his first major-league at-bat and hit a grand slam.
The Florida Marlins rookie did it Aug. 31 in Miami against St. Louis Cardinals reliever Al Reyes.
"To start off that way was something I couldn't even dream about," Hermida says. "It was like I was floating around the bases."
The Marlins are confident the 22-year-old right fielder's no one-hit wonder.
Next week he'll be one of at least five rookies in the Florida lineup on opening day, and perhaps the best of the bunch.
A first-round draft pick in 2002, Hermida was touted last season as the organization's top prospect. He batted .290 with 18 home runs and 63 RBIs for Double-A Carolina, then hit .293 with four homers in 41 at-bats during his month with the Marlins.
New Florida manager Joe Girardi needed little time this spring to recognize Hermida's potential.
"He knows what he's doing," Girardi says. "He's not fazed by anything, and he's comfortable in this atmosphere. He knows he belongs in the big leagues."
Hermida was groomed for the majors from childhood. A natural right-hander, he hits lefty because his dad taught him to at a young age. He started using a wood bat at 13 because he wanted to avoid developing bad habits with aluminum.
Hermida grew up in the Atlanta area, where he competed in high school against Jeff Francoeur. Now he'll try to replicate Francoeur's fine rookie season last year for the Braves.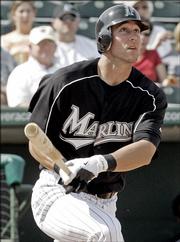 The scouts and stats say Hermida hits for both power and average with discipline uncommon for someone so young. He walked 111 times in 118 games for Carolina last year, lifting his on-base percentage to .455.
And he possesses a flair for the dramatic. He homered in the ninth inning to help the Marlins win their season finale. And his first homer with Florida came six hours after he arrived at the stadium for his first big-league game.
The only other player to hit a grand slam in his first at-bat was William "Frosty Bill" Duggleby in 1898 - and he wasn't pinch-hitting.
Frosty Bill, a pitcher, hit only seven more home runs in his career. Hermida hopes to do much better, but regardless, he intends to enjoy the opportunity to play in the big leagues.
"Putting on this uniform is a special thing," he says. "It's something I don't take for guarantee. I'll work hard to keep it on."
Beginning just his fourth professional season, Hermida talks like an old-timer when he discusses his career so far.
"It always feels like it's a blur," he says. "I can remember waking up my first day of Gulf Coast League; it feels like it was yesterday.
"Every year comes quickly, and it's something you've got to savor every moment. You talk to some of the older guys - Tony Perez and Andre Dawson - and they would kill to play again. They say they played 15 years in the big leagues, and it's like it happened overnight."
Hermida is reluctant to discuss personal goals, saying he merely hopes to be on the team all season. He talks more boldly regarding the outlook for the Marlins, who purged their payroll after last season and may have the youngest roster in the majors.
Last September, Hermida batted in the middle of a lineup that included Carlos Delgado, Juan Pierre, Luis Castillo and Paul Lo Duca. Now, with Miguel Cabrera the lone returning everyday starter, the lineup will be filled mostly with unproven prospects.
"There are going to be a lot of young guys learning at the same time, which is good," Hermida says. "A lot of people are looking at us as the young team that's not going to do much. We're going to go out there and work hard and surprise some people."
Copyright 2018 The Associated Press. All rights reserved. This material may not be published, broadcast, rewritten or redistributed. We strive to uphold our values for every story published.