Milwaukee — The best game of his NBA career couldn't save a lousy day for Charlie Villanueva.
Villanueva scored a career-high 48 points, but the Milwaukee Bucks received 35 points from Michael Redd to beat the Toronto Raptors, 125-116, in overtime Sunday.
That came less than an hour after Connecticut, Villanueva's college team, was upset by George Mason in the NCAA Tournament.
"Right now, I am little disappointed and frustrated," Villanueva said. "We lost. If we won, it would have made my night even bigger. UConn lost, too. That's 0-for-2 for me."
Toronto played much of the way without injured All-Star Chris Bosh, but stayed in the game behind Villanueva, who shot 20-of-32 and had the highest point total by an NBA rookie this season.
But it was Redd, Charlie Bell and the Bucks who stole the show late. Bell filled in for the injured T.J. Ford and added a career-high 18 points and 11 assists in 47 minutes.
Reserves Joe Smith had 19 points, and Dan Gadzuric had 17 for Milwaukee, which was also playing without the injured Mo Williams. Gadzuric added nine rebounds.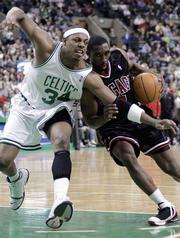 "I am starting to play a little better. My confidence is coming," said Bell, who joined the Bucks this season after playing overseas. "I just try to make the best of it because you never know what is going to happen in the future. I am getting a chance to go out there and show other teams and this team what I can do."
Bosh entered play averaging 22.7 points and 9.4 rebounds. He played just seven minutes before injuring his left thumb while going after a loose ball with teammate Pape Sow. X-rays were negative, and the injury was listed as a mild sprain.
Villanueva almost single-handedly made up for the loss, with 29 points in the second half - after he said he learned that UConn was about to lose.
Pacers 92, Sixers 78
Indianapolis - Stephen Jackson scored 23 points, and Peja Stojakovic added 18.
Reserve Danny Granger had 17 points and 12 rebounds, and Jeff Foster grabbed 14 rebounds to help the Pacers recover from Friday's 75-72 loss to Detroit.
Allen Iverson scored 26 points, and Chris Webber added 24 for the 76ers, but no other Philadelphia player scored more than eight.
Wolves 98, Knicks 94
Minneapolis - Kevin Garnett had 26 points and 15 rebounds, and Minnesota survived a late scare to send New York to its fifth straight loss.
The Wolves led by as many as 25 points in the first three quarters, only to be outscored 33-18 in the fourth.
Ricky Davis had 21 points for the Wolves, who have won six of their last seven home games. Rashad McCants added 17, Justin Reed had 13 - one point shy of his career high - and Marcus Banks 12. Jamal Crawford led New York with 20 points.
Bulls 101, Celtics 97
Chicago - Luol Deng scored 20 points, Ben Gordon added 13 of his 17 in the fourth quarter, and Chicago rallied to win its second straight.
The win, coupled with Philadelphia's loss to Indiana, pulled Chicago within a game and a half of the 76ers for the eighth and final Eastern Conference playoff spot.
Paul Pierce scored 24 points, and Wally Szczerbiak added 23 for the Celtics, who have lost three of four.
Cavs 104, Rockets 102
Houston - LeBron James scored 36 points, including the go-ahead dunk with 3:24 left in overtime.
James earned a victory over the only team in the NBA he'd never beaten. Cleveland has won five straight.
Zydrunas Ilgauskas added 21 points for Cleveland and forced Yao Ming into 9-of-21 shooting. Ming led Houston with 27 points, and Rafer Alston had 22.
Grizzlies 102, Bobcats 95
Memphis - Pau Gasol had 33 points and 15 rebounds, and Memphis won its season-high seventh straight game.
Reserve Mike Miller added 20 points, and Lorenzen Wright contributed 13 points and seven rebounds for the Grizzlies.
Charlotte received 25 points from Gerald Wallace and 21 from Kareem Rush. Point guard Brevin Knight had 16 assists.
A small fire that erupted on a freight elevator a minute before the scheduled 3 p.m. tip delayed the start of the game by 90 minutes. The fire broke out on a foodcart on the terrace level of the building and the building had to be evacuated.
Magic 108, Hawks 101
Orlando, Fla. - Hedo Turkoglu scored 23 points, and Dwight Howard added 15 points and 13 rebounds.
Jameer Nelson scored 15 points as the Magic put six players in double figures while recording their first win over the Hawks in three tries this season.
Al Harrington had 20 points, Joe Johnson added 19, and Josh Childress scored 18 off the bench for Atlanta.
Nets 79, Pistons 74
Indianapolis - Vince Carter scored 22 points, and Jason Kidd added a season-high 14 rebounds as the Nets won their eighth straight game.
The Nets broke a 56-all tie by scoring the first five points of the fourth period, and took a 69-61 lead on former Piston Cliff Robinson's three-pointer with 6:45 to go. Nenad Krstic had 16 points for the Nets.
Lakers 105, Hornets 94
Los Angeles - Kobe Bryant scored 30 points, and Lamar Odom added 23.
Center Kwame Brown shot 7-for-7 from the field and finished with 17 points, helping Los Angeles equal its longest winning streak of the season.
David West had 23 points and seven rebounds for the Hornets, who have lost 11 of their last 12 games.
Clippers 97, Blazers 83
Portland, Ore. - Elton Brand scored 30 points and grabbed 11 rebounds.
Travis Outlaw led the Blazers with 19 points in just under 16 minutes. He scored 15 of his points in the fourth quarter.
Warriors 90, Kings 83
Sacramento, Calif. - Adonal Foyle scored a season-high 18 points, Mike Dunleavy added 17, and Golden State hung on to snap the Kings' 14-game home winning streak. Shareef Abdur-Rahim scored 24 points for the Kings.
Sonics 106, Spurs 102
Seattle - Ray Allen made a three-pointer with 5.4 seconds left.
Allen finished with 33 points and made 13 of 23 shots, including five three-pointers, as Seattle was 10-for-16 from beyond the arc. Allen had struggled, missing 23 of 33 shots in his last two games, but found his stroke against the suffocating, physical defense of San Antonio's Bowen.
Copyright 2018 The Associated Press. All rights reserved. This material may not be published, broadcast, rewritten or redistributed. We strive to uphold our values for every story published.