Cleveland — North Carolina's Ivory Latta made the winning shot and then was carried from the floor - by the team's trainers.
The tough and tiny point guard hit a driving layup with 2.8 seconds left before her leg cramped up as the top-seeded Tar Heels advanced in the NCAA Tournament with a 70-68 victory Sunday over Purdue in the semifinals of the Cleveland Regional.
After banking in the go-ahead basket to snap a 68-all tie, Latta fell to the floor in pain and watched as Purdue's Katie Gearlds missed a half-court heave as time expired. The Tar Heels (32-1) rushed to Latta, who by then was grabbing her left knee and screaming in agony.
As her teammates flocked around her, the arena went from wild cheers to stunned silence.
Latta stayed on the floor for several minutes before she was picked up by Carolina's medical staff and taken to the locker room while the other Tar Heels remained on the floor to hear their alma mater.
North Carolina will play Tennessee in the regional final Tuesday night, with the winner getting a spot in the Final Four in Boston.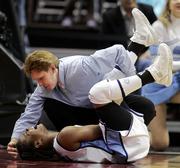 A school spokesman said Latta had a cramp in her left calf and wasn't expected to miss the Tar Heels' matchup with the Lady Vols.
If not for her dramatic basket, North Carolina would be on its way home.
Erlana Larkins scored 23 points, and Latta added 19, eight assists and four steals for the Tar Heels.
Lindsay Wisdom-Hylton had 21 and Aya Traore 17 for the No. 4 seed Boilermakers (26-7), who took a 63-62 lead with 3:14 remaining on a jumper by Erin Lawless. But Larkins bulled her way down low for two baskets and a layup by La'Tangela Atkinson gave North Carolina a 68-64 lead with 1:35 left.
But Purdue refused to cave and tied it again before Latta, the Tar Heels' 5-foot-6 bundle of energy ended it with a basket Carolina fans may never forget.
Tennessee 76, Rutgers 69
Cleveland - Candace Parker showed she can do a lot more than dunk.
Parker scored 29 points with six blocks, and Shanna Zolman hit five three-pointers and added 29 points to lead Tennessee over Rutgers in the semifinals of the Cleveland Regional.
Parker, who last Sunday became the first woman to dunk in an NCAA tournament game, scored 12 straight points during a critical run by the second-seeded Lady Vols. The freshman hit jumpers, blocked shots and at times brought the ball up the floor, looking a little bit like NBA star LeBron James in his own building.
Tennessee (31-4) improved to 21-4 in the regional semifinals in its 25th straight appearance. The Lady Vols have not missed the regional finals since 2001.
Bridgeport Regional
Duke 86, Michigan State 61
Bridgeport, Conn. - The smiles broke out on the Duke bench midway through the second half. And why not? This one was over by then.
Monique Currie scored 17 points to lead top-seeded Duke over Michigan State.
Duke (29-3) advanced to a regional final for the sixth time and will play second-seeded Connecticut on Tuesday night.
The Blue Devils had an answer for every Michigan State run early on - then ran away with the game in the second half and led by as many as 27 in the closing minutes.
Victory Lucas-Perry had 17 points to lead the Spartans, last year's NCAA runner-up.
Connecticut 77, Georgia 75
Bridgeport, Conn. - Barbara Turner wasn't about to go home.
The Connecticut senior hit a fadeaway three-pointer with 1.8 seconds left and two defenders on her to give the second-seeded Huskies a win over Georgia.
Turner had a career-high 33 points and nine rebounds to help the Huskies (32-4) rally from 15 points down. With the victory, UConn pushed its NCAA winning streak in the state of Connecticut to 29 games.
Tasha Humphrey led Georgia (23-9) with 27 points, but picked up her fourth foul with 8:45 to play. In the closing minutes, Turner drove inside and scored six points on Humphrey.
Copyright 2018 The Associated Press. All rights reserved. This material may not be published, broadcast, rewritten or redistributed. We strive to uphold our values for every story published.