Round Corner Drug Store pharmacist Tom Wilcox filled a prescription last week for one of his Medicare Part D customers.
It cost him $178.
He later learned the customer's drug plan, Humana, planned on paying him $178.54.
"I called Humana and said there had to be a mistake - you can't expect a pharmacy to fill a $178 prescription for 54 cents," said Wilcox, who has filled prescriptions at Round Corner, 801 Mass., for the last 21 years.
"They checked and said, no, that was correct," he said. "When I said that's crazy, they said I shouldn't have signed on if I didn't like it."
But Wilcox said he didn't have much choice. Most of his Medicare Part D customers signed up with Humana because its premiums were by far the lowest: less than $10 a month. The others are charging between $20 and $30.
"Most people went with Humana, definitely," he said.
Wilcox is far from alone in his complaints. Independent pharmacists across the city and state say all but one of the new Medicare Part D plans are designed to steer their customers toward large, chain-owned pharmacies that rely on volume to hold down prices. Independent pharmacies, they said, rely less on volume, more on customer loyalty.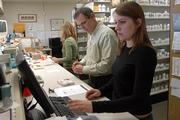 They say some independent pharmacies - many, perhaps - are likely to be forced out of business.
"Over the years, I've seen a lot things come and go. We used to have two or three pharmacies downtown (Lawrence); now there's one," Wilcox said. "But what's on the horizon now is really scary."
Competitive rates?
Mark Smith, pharmacist at Orchards Drug, 1410 Kasold Drive, doesn't have many good things to say about the Medicare rates, either.
"What they're paying doesn't cover our costs," Smith said, noting that he has filled several prescriptions for Humana customers for $2 and $3 apiece, while pharmacies generally need to make $9 to $10 a prescription to turn a profit.
"You can't sell prescriptions for $2 and stay in business," he said.
If Humana's reimbursements don't improve, Smith said, he'll begin advising his customers that he won't accept Humana in 2007.
It's a widespread problem, officials say.
"The independents are being squeezed by reimbursements that are below cost," said John Kiefhaber, executive director at the Kansas Pharmacists Assn.
Humana and UnitedHealth Group are two of the nation's largest Medicare Part D providers. They're aligned with Wal-Mart and Walgreens, respectively.
Mary Sellers, a spokeswoman for Humana, said the company's rates were reviewed and approved by the federal Centers for Medicare and Medicaid Services. She said the rates were competitive.
"If they (independent pharmacies) don't want to be part of the network, that's fine," she said. "Their role won't go away. If that's what they think, it's an overblown concern."
Not so, Wilcox said.
"When we first opened, we were 20 percent insurance, 80 percent cash," he said. "Now, we're 20 percent cash, 80 percent insurance. Medicare and Medicaid make up a big part of that 80 percent."
Other problems
The pharmacy association's Kiefhaber said Medicare Part D's shortcomings aren't limited to pinchpenny reimbursements.
"Cash flow is a huge problem," Kiefhaber said. "Pharmacies that have been on 14- and 28-day pay cycles are now on 45-day cycles. For the first time, they're having to borrow money to cover the difference between when they get paid and when they have to pay their wholesalers."
He added, "Most wholesalers require payment in 10 or 14 days."
Pharmacists, he said, are livid over being taken for granted after single-handedly keeping Medicare Part D afloat in January and February, a chaotic time when the plans' computer and telephone lines often were jammed.
"We - the pharmacists - are the one who funded this thing for the first 30 to 45 days. There's absolutely no doubt about that," said Jim Coast, pharmacist at Clark Pharmacy in Cimarron.
Medicare Part D, he said, is designed to reap huge profits for both the insurers and the drug companies.
"Those of us at the bottom of the food chain are being told to suck it up or get out of the business," he said.
Coast warned that small towns are doubly vulnerable.
"Not everybody has a Wal-Mart or a Walgreens," he said. "My mother is 85 years old and in a nursing home, but what if she wasn't? What if (Clark Pharmacy) wasn't here? Do we really want her driving 20 miles to Dodge City to get a prescription filled? I don't think so."
Coast said he refused to contract with Humana.
"Out of the 15 companies that have plans out there, we signed up with five," he said. "There's no way I would have gone with Humana."
Several pharmacists questioned Humana's relationship with Wal-Mart.
"I'd sure like to know what their reimbursement contract with Wal-Mart is," said Steve Smith, who owns Steve's Corner Drugs in Hiawatha. "I studied every one of the plans, and Humana's had the worst reimbursement. It was 10 percent below cost. I can't imagine that's what they're paying Wal-Mart."
Not so, said Humana spokeswoman Sellers.
"That's not correct," she said. "That's pure speculation on his part."
Steve Smith said he encouraged his customers to steer clear of Humana and instead embrace Community Care Rx, a plan that pharmacists had a hand in writing.
"The premiums are higher, but the co-pays are lower - and I can stay in business," he said.
Fighting back
In Lawrence, Jeff Sigler at Sigler Pharmacy, 4525 W. Sixth St., started telling his customers last fall that he would not take Humana.
"As far as I know, I haven't lost a single customer," Sigler said.
Larry Kocot, a senior adviser at Centers for Medicare and Medicaid Services in Washington, D.C., said Sigler did what more independent pharmacies should do: exercise their rights in an increasingly free marketplace.
"The whole pharmacy business has been in kind of realignment-of-incentives phase for the past few years because it's become clear to the third-party payers that there are a lot of ways to get pills to people," Kocot said.
But pharmacists, he said, do more than distribute pills: They provide a "connection, a special relationship that people want."
The only way to derail the plans' race to pennies-over-cost reimbursements, Kocot said, is to provide a service customers are willing to pay for.
Most Medicare Part D customers, he said, want to stay with their pharmacies and will choose the plans that let them stay.
Sigler's customers, for example, stayed with him.
"Some pharmacies have realized their place in the marketplace," Kocot said. "Others have decided to accept whatever comes over the door. All I can say is they're going to have to adjust to this new marketplace reality."
Copyright 2018 The Lawrence Journal-World. All rights reserved. This material may not be published, broadcast, rewritten or redistributed. We strive to uphold our values for every story published.