Washington manager Frank Robinson continues to be understanding about Alfonso Soriano's troubles in the outfield. After all, Robinson knows it's a work in progress.
Soriano misplayed a ball in the first inning that led to a run, but was 2-for-4 with a home run, a walk and three runs to help the Washington Nationals beat Houston, 13-6, on Sunday in Viera, Fla.
"It just goes to show you he's focused as far as his offense is concerned," Robinson said. "The plays in the outfield : I tried to warn anybody who would listen, it's going to be a work in progress. He got a little lesson today, and if he learns from these things, that's what we want. We don't want him to make the same kind of mistakes two or three times."
In the top of the first, lefty Lance Berkman hit a ball the opposite way to left-center that Soriano misread. He charged the ball, and it carried over his head, allowing Willy Taveras to score from first base.
"I try to catch the ball, but it was a line drive going up because of the wind," said Soriano, on a day where the wind blew straight out to center at 12 mph.
"I see the contact, but after that, when the ball passed the infield, I lost it a little bit, and I think that's why I have a little problem."
Soriano redeemed himself, hitting the first pitch he saw in the bottom of the first over the left-field fence.
"If we don't get down on him and show confidence in him, he's going to learn," said starter John Patterson, who pitched 51â3 innings, allowing two runs and striking out seven to earn the victory.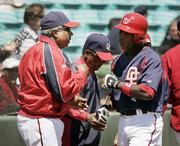 "It's going to take a little while, and he's going to get some runs back with his bat. You can expect him to make some mistakes, but we'll hang in there with him."
While Soriano will be spending the rest of spring training learning the outfield, Barry Bonds most likely is done with the Cactus League, choosing instead to rest his tender left elbow and surgically repaired right knee before the season starts.
Bonds was examined by two doctors Sunday for evaluation of his inflamed elbow, and the San Francisco Giants were hopeful the slugger would resume on-field baseball activities today.
"The doctors were very happy with what they saw in the examination," team spokesman Blake Rhodes said.
The Giants break spring training Wednesday, though Bonds has said he plans to return to the Bay Area a day ahead of the team and work out Wednesday at the stadium in San Francisco. The Giants entertain the Angels on Thursday, and Bonds is still projected to play in that game, as well as Saturday's exhibition in Oakland. San Francisco opens the season April 3 at San Diego.
In Phoenix, Frank Thomas played his first game with the Oakland Athletics and homered. He struck out in his first at-bat and then hit a 1-1 pitch off Josh Fogg that sailed high over the billboards beyond the left-center field fence, setting off a mild celebration in the dugout.
"I saw a couple of pitches and slowed everything down and hit the ball hard," Thomas said. "I was embarrassed my first time up, but the nice thing about baseball is you can turn it around the next time."
In other spring training games:
Mets 8, Orioles 0
At Port St. Lucie, Fla., New York ace Pedro Martinez pitched three scoreless innings in his first spring-training start.
Marlins 9, Cardinals 1
At Jupiter, Fla., St. Louis starter Mark Mulder pitched five innings and gave up six runs with six strikeouts and two walks. Mike Jacobs and Tom Wilson had two RBIs each for the Marlins.
Blue Jays 9, Pirates 8
At Dunedin, Fla., Jason Bay and Craig Wilson each hit two home runs for the Pirates.
Dodgers 3, Braves 2
At Vero Beach, Fla., Los Angeles closer Eric Gagne shook off a rough outing allowing a double and a run-scoring single in one inning. He struck out two. Rafael Furcal had two hits and knocked in all three runs for the Dodgers.
Red Sox 3, Phillies 2
At Clearwater, Fla., Josh Beckett struck out six over six innings to earn the win for Boston.
Devil Rays 7, Twins 5
At Fort Myers, Fla., Minnesota starter Brad Radke gave up five hits and two earned runs in five innings in one of his best outings of the spring. He lowered his earned-run average from 6.75 to 5.82.
Indians 9, Reds 4
At Winter Haven, Fla., Grady Sizemore went 3-for-5 with a double, triple and three RBIs for the Indians.
Yankees 9, Tigers 8
At Tampa, Fla., New York starter Chien-Ming Wang left in the third inning because of a bruised right knee after being hit by a batted ball. X-rays were negative.
Rangers 4, Brewers 3
At Surprise, Ariz., Texas first baseman Mark Teixeira went 2-for-4 with a double - his first extra-base hit of the spring.
Angeles 15, Mariners 4
At Tempe, Ariz., Tim Salmon homered and drove in three runs for the Angels. He was 2-for-3 with three runs scored. Garret Anderson played for the first time since March 7 because of sprained plantar fascia tissue in his foot and went 1-for-3.
Diamondbacks 6, Cubs 0
At Mesa, Ariz., Orlando Hudson went 3-for-3 with a solo homer and two RBIs for the Diamondbacks.
Padres 6, Giants 5
At Peoria, Ariz., Pete Laforest hit a two-run homer for the Padres. Lance Niekro went 2-for-3 with a two-run homer and four RBIs for the Giants.
Copyright 2018 The Associated Press. All rights reserved. This material may not be published, broadcast, rewritten or redistributed. We strive to uphold our values for every story published.