Last March, Lynda Anders Canaday wanted to die.
She could barely walk because of rheumatoid arthritis in her knee and a spinal disorder. She'd lived for more than 50 years, all the time dealing with discrimination - people telling her that a blind black woman shouldn't aspire to sing opera and classical music.
She'd once had a professional music career, but it was gone. She'd once entertained a hope of having children, but that had been medically ruled out years ago.
Everything she'd wanted out of life - with the exception of her husband, Jim - had been denied.
"God bless Jim, I love him to pieces, but a husband does not a complete life make," she said. "I had, that I could see, no reason to keep living. : I just decided I was going to check out."
Canaday stopped eating and drinking for five days until finally bringing herself in for treatment of her severe depression.
Now, a year later, with help from a therapist, she has made a surprising turnaround: At 52 years old, Canaday has gone back to school as a Kansas University freshman majoring in vocal performance.
Photo Gallery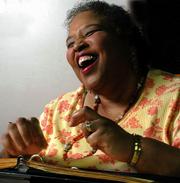 Lynda Anders Canaday
"Today I have a reason to get up in the morning. I have something to pour my life into again," she said. "I have a purpose. As my foster mother would say, I have a reason to show up for life."
Canaday's history with music began before her birth in 1953 in Los Angeles. She said that when she was in her mother's womb, the legendary gospel singer Mahalia Jackson came through town with a variety show and needed a place to stay.
A mutual friend hooked Jackson up with Canaday's family. Jackson became a family friend, as well as Lynda's godmother.
"She had a prophecy from the Lord that I would be a girl and I would be a great singer," Canaday said.
Canaday, who was blind at birth, sang her first solo in church at age 4. She studied music throughout childhood and spent six weeks out of every summer staying with Jackson and going wherever she went.
But overall, her childhood was rough. She went into foster care at age 9 for reasons related to her mother's alcoholism and to abuse "of every kind" that was happening in her home, she said. She moved from one foster home to another until age 17 when she went to live with her sister.
Despite Jackson's disapproval, Canaday realized while growing up that her true love wasn't gospel music, but classical music - especially Mozart. She became a professional singer in Southern California and eventually had a vocal studio with 24 students.
After hearing Canaday sing in 1991 at the California Institute of Technology's commencement, then-President George H.W. Bush wrote her the following message: "Your rendition of our National Anthem lifted my soul. It was beautifully done, and I simply wanted to thank you for sharing your special gift of song with us."
Health problems
Canaday met her husband in the early 1990s while attending a guide dog training course in California. At the time, he was working on his Ph.D. in clinical psychology at KU. She moved to Lawrence, and they were married in 1993.
The Canadays live on Social Security income in a home in East Lawrence, with a piano in the front room that's surrounded by stacks of music. A cross hanging on the wall behind the piano bears the inscription, "Make a Joyful Noise."
But after moving to Lawrence, Canaday became depressed about the loss of the career she had in California. Her knee problems grew progressively worse because of regular falls she suffered on the uneven sidewalks around her home, and a genetic back disorder began to give her problems.
Those problems culminated in the depression that sent Canaday to treatment last spring. After spending a couple days at Osawatomie State Hospital, she went into court-ordered therapy with a therapist from Independence Inc.
Together, she and her therapist came up with the idea that she would go back to school.
"It grew on me, and then I got really excited about it," she said.
She enrolled for 12 credits in the fall, with an arrangement that the state's Department of Social and Rehabilitation Services would help with a portion of her tuition and fees. She started in the fall with 16 credits that transferred from her stint in the early 1970s at the University of California-Los Angeles.
'Grace and skill'
Since then, there's been a big difference, Jim Canaday said.
"She certainly is happier and is doing more. I think this is how she's going to find a new life," he said. "She's taking some big chances and trying really hard. : I'm very proud of her."
That's not to say everything at KU has gone smoothly. At times, the age gap between her and her fellow students - and some professors, for that matter - is embarrassing.
Still, she got all A's in her remaining courses last fall. This spring, she's taking 12.5 credit hours, with courses in subjects including music history, acting, French diction and German vocal literature. While many undergraduates were on the beach last week for spring break, Canaday was in a rehearsal room at Immanuel Lutheran Church, singing some of the works of Richard Strauss.
As accompanist Geoff Wilcken played the piano, Canaday closed her eyes, ran her fingers across pieces of Braille sheet music and sang with a powerful soprano voice that could be heard throughout the empty church at 2104 Bob Billings Parkway.
Wilcken said Canaday sings with a "grace and skill that puts to shame a lot of people who came at it with a lot more advantages."
Canaday said what she loves most about singing is the physical feeling of it, as well as the joy it gives to her and others. When she sings, she knows she's doing what God called her to do.
As for how long it will take for her to land the degree, she doesn't know.
"I'm taking out a lot of grants and student loans," she said. "I'm going to be in debt up to my eyeballs when I get out of school."
Copyright 2018 The Lawrence Journal-World. All rights reserved. This material may not be published, broadcast, rewritten or redistributed. We strive to uphold our values for every story published.