Kiev, Ukraine — Ukrainian President Viktor Yushchenko's party was beaten into a humiliating third place in parliamentary elections Sunday as the pro-Russian party of the man he defeated for the presidency 16 months ago appeared headed for a clear victory, according to exit polls.
The Party of Regions, led by Viktor Yanukovych, who was defeated by Yushchenko in 2004 following massive street protests known as the Orange Revolution, secured a commanding 33.3 percent of the vote, according to one exit poll. A second poll gave his party 27.5 percent.
"Our victory will open a new page in the history of Ukraine," Yanukovych said Sunday night. "We are ready to work together with any political party."
Official preliminary results are not expected until today.
Weeks of haggling to build a new coalition government are now likely, but with Yanukovych, a Kremlin favorite, at the helm, Ukraine's strategic direction is likely to shift away from the West and back into the welcoming embrace of Moscow.
The party of Yushchenko's former ally, Yulia Tymoshenko, who had a bitter falling out with the president last year, came in second with 22.7 percent of the vote, according to one poll. A second national poll gave her party, known as Bloc Yulia Tymoshenko, 21.6 percent.
Yushchenko dismissed Tymoshenko as prime minister last September amid mutual accusations of corruption and mismanagement.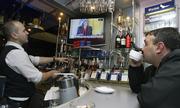 Yushchenko's Our Ukraine party received 13.5 percent, according to one poll, a clear verdict on his break with Tymoshenko and his stewardship of the country over the past year which has seen economic growth fall of dramatically. A second poll gave Our Ukraine 15.5 percent.
Among the 45 parties in the elections, six or seven are expected to cross the 3 percent threshold necessary to enter the 450-seat parliament. Two or three of those parties, including the Communists, are natural coalition partners for Yanukovych's bloc.
The final division of seats may allow Yanukovych to sideline the parties of both Yushchenko and Tymoshenko, even if they reconcile.
Copyright 2018 The Lawrence Journal-World. All rights reserved. This material may not be published, broadcast, rewritten or redistributed. We strive to uphold our values for every story published.