Selmer, Tenn. — The preacher's wife charged with murder in the death of her husband wanted his congregation to know "she was sorry for everything she has done," said a friend who visited her in jail Sunday.
Church member Pam Killingsworth visited Mary Winkler after Sunday services and said the preacher's wife gave no indication why her husband of 10 years was shot.
"She just said she was sorry and for me to write a note to the church saying that she was sorry for everything she had done," said Killingsworth as she walked away from the jail in tears.
Winkler, 32, has been charged with first-degree murder in the death of her husband, Matthew Winkler, the preacher at the Fourth Street Church of Christ in this small town 80 miles east of Memphis.
Her initial court appearance is scheduled for today.
The congregation held its first Sunday services since the shooting death and members were warned by elder Robert Shackelford not to speculate about why their popular, young minister was killed.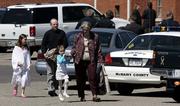 Friends have described the Winklers as a happy couple with no outward signs of discord, and authorities have refused to talk about a motive for the murder.
"Perhaps over time we will better understand why this has happened," Shackelford said at an adult Sunday school class. "Be very cautious about what you say or even what you think."
Church members found 31-year-old Matthew Winkler dead in a bedroom of the couple's parsonage Wednesday night after his family missed a church service.
The Tennessee Bureau of Investigation has refused to discuss a motive, but said investigators did not believe it was because of infidelity. The agency refused comment on whether Winkler had been accused of domestic abuse. Court papers offered no hint on a motive.
Matthew Winkler's funeral is scheduled for Tuesday in Selmer.
Copyright 2018 The Associated Press. All rights reserved. This material may not be published, broadcast, rewritten or redistributed. We strive to uphold our values for every story published.