Washington — George Mason's players stood on the press table, waving their jerseys to the crowd. Coach Jim Larranaga walked around with the nylon net around his neck.
It won't be the same old schools from the same old conferences at this year's Final Four - certainly not top-seeded Connecticut.
Buoyed by a partisan crowd and playing some 20 miles from its campus, 11th-seeded George Mason overcame huge disadvantages in size, athleticism and history Sunday to stun the Huskies 86-84 in overtime, ending a stranglehold that big-time programs have enjoyed for 27 years in college basketball's biggest showcase.
Improbable as it may seem, the powers-that-be are going to have to make room for a commuter school from Fairfax, Va., that was a dicey choice to make the NCAA Tournament as an at-large bid.
"I was kidding with one of my assistants," Larranaga said, "We're not just an at-large team, we're an at-extra-large. And if we win today, we're going to be an at-extra-double-large. I can't tell you how much fun I'm having."
The Patriots overcame their deficiencies with heart and tenacity. They were never rattled, even when they trailed by 12 late in the first half and nine early in the second. They hit six straight three-pointers in the second half, shot 5-for-6 in overtime and outrebounded UConn 37-34 even though the Huskies have three starters taller than any of the Patriots' frontcourt players.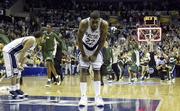 There was also motivation from Larranaga, who fired up his team during timeouts by telling them that UConn's players didn't even know which conference George Mason is in.
"That's a little bit of disrespect," guard Tony Skinn said. "Coach told us the CAA stands for 'Connecticut Assassin Association."'
Of course, as more people are learning, CAA stands for Colonial Athletic Association, a league that has never had a team get this far before. The Patriots (27-7) are only the second double-digit seed to make the Final Four, matching LSU's run, also as an 11th seed, in 1986. They are the first true outsider to crash the quartet since Penn and Indiana State both got there in 1979.
George Mason next plays No. 3 seed Florida in Saturday's semifinals in Indianapolis. This marks the first time since the field was expanded to 64 teams in 1985 that no top-seeded team advanced to the Final Four, and the second time in tournament history.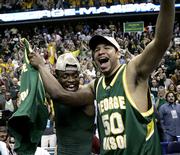 The Patriots' at-large selection was roundly criticized by many, including CBS commentator Billy Packer. George Mason's fans chanted Packer's name in the postgame celebration.
"I think it's been working for us, calling us Cinderella," Skinn said. "We were not supposed to get into the tournament, we got into it. We were not supposed to beat Michigan State and we beat them. Weren't supposed to beat North Carolina and we beat them. We definitely weren't supposed to be UConn. I think we'll stick to the script going into whoever we play. We don't mind being the Cinderella."
All five Mason starters finished in double figures. Jai Lewis had 20, and Lamar Butler and Will Thomas each scored 19. Larranaga's team kept the same five players in the game from the 10:37 mark of regulation to the very end of overtime. Butler was chosen as the most outstanding player of the regional, and he and his father were in tears as they hugged at length on the court after the game.
"I feel so good, through my own sadness, for Jim Larranaga," UConn coach Jim Calhoun said. "Playing at that level is not easy. I can only imagine the feeling they must have on that campus, in that locker room. ... It's something they probably never imagined. We've imagined it, and we've done it. They could never have imagined it."
George Mason, having by far the best season in school history, had never won an NCAA tournament game until it beat half of last year's Final Four - Michigan State and No. 3 seed North Carolina - back-to-back in the first two rounds. Now it can say it has beaten the last two national champions - Connecticut and North Carolina.
Mason gave UConn a chance to win with poor free-throw shooting. Lewis missed three attempts in the final 15 seconds - the last two with 6.1 seconds to go - giving the Huskies a final possession to tie or win. Denham Brown, who made the reverse layup at the regulation buzzer to send the game to overtime, was off the mark from the left wing with a potential game-winning three-pointer at the buzzer.
Copyright 2018 The Associated Press. All rights reserved. This material may not be published, broadcast, rewritten or redistributed. We strive to uphold our values for every story published.