Basehor — City regulations were the last thing on Victor Dietz's mind about a year ago when he decided to buy a couple of baby chickens for his daughter, Hannah. His then-9-year-old daughter fell in love with the baby chicks.
"It's kind of an emotional purchase - you see how cute they are," said Dietz, a Basehor resident.
On March 14, Dietz was fined $50 for keeping Precious, a Rhode Island Red, and Nickie, a Plymouth Rock hen, within the city limits at his girlfriend's house.
After giving up on filing an appeal last week in Leavenworth County District Court - the procedures and paperwork were too complicated to navigate without professional legal help, he said - Dietz said he would move the chickens to the farm at a friend's house in Bonner Springs.
Dietz said he thought it was "crazy" that Basehor law includes provisions that regulate the keeping of vicious dogs, while chickens cannot be kept in the city.
At Feldman's in Basehor - where the chicks were purchased - the general manager, Demitri Gabriel, said he thought very few of the chicks the store sold were kept for pets.
Gabriel said most customers who looked at any of the store's seven breeds of chickens asked whether they're "good for eating."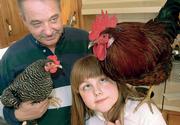 "Most people buy them for laying and butchering," he said.
John Thompson, city attorney for Basehor, said there were a "variety of rationales" for the law banning chickens, "mainly public health and public safety" in regard to diseases borne by poultry.
Dietz had built a cage for the animals, complete with a chicken wire floor for easy maintenance, and wheels, which allow it to be moved into the sun when the weather is nice.
The cage stayed in the garage in the winter, where the birds are kept during the day.
In the house, the birds wore diapers Dietz bought through the Internet, and seemed to get along fine with his dog, Buddy.
Toni Iovkova, Dietz's girlfriend, said the chickens liked to drink coffee and Pepsi.
Hannah, now 10, said she was unhappy that the chickens would not be allowed to stay at the house.
"I really like my chickens," she said. "It made me really mad."
Dietz said his next move would be to request an amendment to the animal control ordinance at the next Basehor City Council meeting, which is April 3.
Copyright 2018 The Lawrence Journal-World. All rights reserved. This material may not be published, broadcast, rewritten or redistributed. We strive to uphold our values for every story published.