Headed to the gym? Here's what's out: baggy sweatpants and oversized T-shirts.
Not to mention hot pink Jane Fonda-esque leotards and leg warmers.
Nope. Today's health clubs are hotbeds for style-savvy fitness fanatics.
"I think going to the gym now has become a fashion statement," says Josh Magaha, a Kansas University yell leader and personal trainer at the KU Rec Center. "I notice a lot of females wearing matching bottoms, matching tops and full makeup. I'm like, 'Are you kidding me? You're in a gym.'"
All kidding aside, Americans spent $38.8 billion on fitness apparel in 2004 and an estimated $41.4 billion in 2005, according to the Sporting Goods Manufacturers Assn. in Washington, D.C.
Some of those dollars went toward moisture-wicking fabrics in neutral colors and form-fitting shapes.
"I definitely have noticed some of the more yoga-looking, pilates-looking attire coming in - the yoga pants and the spaghetti-strap tops," says Tracey English, marketing and wellness director at Body Boutique, 2330 Yale Road, a women's-only gym where she also teaches aerobics classes.
Photo Gallery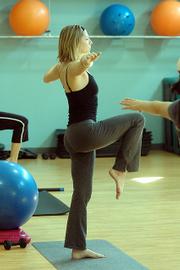 Hip & fit
"We have just as many women in your conventional T-shirt and shorts as those who are in something a little more trendy. But I think (fashionable workout clothes) are popping up in more places, making them more accessible to the general public and not just to those who are die-hard exercisers."
Cassidy Leavy can attest to that. She stocks up on yoga pants at Old Navy - certainly not a store known for its sportswear, but one that's joining other general retailers to cash in on the expanding market for fashionable fitness clothing.
Leavy, 27, says the popularity of yoga and pilates have created a demand for apparel that fits more snuggly, allowing exercisers to observe the lines of their body during workouts.
"I think workout clothes tend to follow the general fashion trends that are going on in regular clothes," says Leavy, who works out about four times a week at Body Boutique. "The workout pants are lower-waisted, just like the jeans are now - versus like in the '80s they'd be stretch pants or leggings with maybe a lot higher waist.
"I think the general style now is tending more to comfort and what people consider flattering."
In Kim Gardner's opinion, the impulse to don trendy fitness gear has more to do with age.
-->
"It seems to me that the older - and I classify myself as part of the older because I'm 49 - but the older we get probably the less conscious we are about matching attire and fashion," she says. "I guess I see the younger women maybe more fashion-oriented."
That being said, the outfit Gardner wore to last Thursday's pilates class at Body Boutique - black knit pants with gray stripes down the side and a matching black top with gray banding - fits right in with current styles and was cute enough to double as an outfit acceptable for a post-workout shopping trip to the grocery store. She also has invested in clothing made from moisture-wicking fabrics to wear during her walking workouts.
Scott Bennett, a sales rep at Francis Sporting Goods, 731 Mass., says these high-tech fabrics are the biggest change he's seen in sporting apparel in recent years. Popular colors for men have remained the same - black, gray and blue - but the tones of women's clothing have become more muted, mostly pinks and pastels, he says.
No matter how intent someone is on looking good, the most important consideration when buying workout gear is comfort, English says. Whether trying on jog bras, pants or tops, consumers should jump around, do some lunges - anything to simulate a workout to test the clothing for support and performance.
After that, a fashionable, form-flattering presentation is icing on the cake.
"The women who exercise and walk around the gym and are wearing something like that - I think they probably exude a confidence level that they're feeling because they are comfortable with how they look," English says.
"As an instructor, I want to look the part and feel the part, and that just makes me feel better about what I'm doing."
Copyright 2018 The Lawrence Journal-World. All rights reserved. This material may not be published, broadcast, rewritten or redistributed. We strive to uphold our values for every story published.